The Examined Year: 2015 - Uncut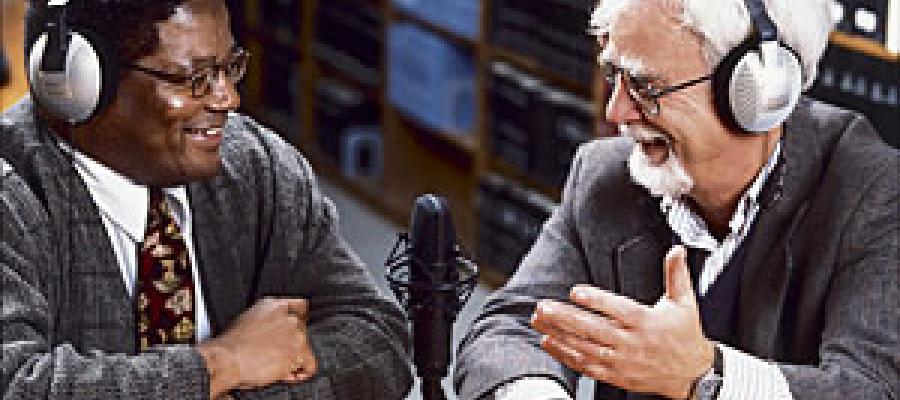 Happy new year from your friendly neighborhood producer. With John and Ken taking a well-deserved break, I thought I'd offer a look behind the scenes at some of what it takes – radio-wise – to examine the year that was.
Pre-production on this year's show started in late October with some brainstorming about what newsworthy events (to that point) might have philosophical angles worth exploring – things that made us challenge our assumptions and think in new ways, as they say. For the first segment (which we generally pitch as "The Year in Philosophy and/or Academia"), we decided to focus on the wave of student protests on college campuses around the country – particularly since two philosophers, Kate Manne and Jason Stanley, had written a widely-circulated response to some of the criticism levelled at the protesters (Kate had also written an earlier op-ed about trigger warnings in the New York Times). Here's the complete conversation that John and Ken recorded with Kate, which touched on a whole range of issues that didn't make it to air:
We usually think of the second segment of the show as something like "The Year in Politics," which means it's often inspired by some of the most widely talked about headlines. For better or worse the issue of refugees and migration, which had already been making headlines in the US and Europe earlier in the year, took on renewed prominence after the attacks in Paris and San Bernadino. Once again John and Ken recorded a wide-ranging conversation, in this case with political scientist Beverly Crawford, of which only a portion appeared on the air. Check out the complete interview:
For the third segment, "The Year in Science," we had thought about taking a deeper look at what this year's (and the seemingly constant) revision of nutrition guidelines might tell us about the status of scientific claims. But when it turned out that Paris Climate Summit was shaping up to be a very big happening (following a year of big happenings in the climate itself), we gave in to the recency bias and decided to focus on the global response to climate change. John and Ken spoke to Allen Thompson from Oregon State University, who'd previously joined them live in Corvallis for an episode on The Moral Costs of Climate Change. Here's the unedited conversation:
Related Shows
Jan 03, 2016

A new year offers an opportunity to reflect on the significant events of the previous year.
Log in or register to post comments
Related Shows
Jan 03, 2016

A new year offers an opportunity to reflect on the significant events of the previous year.