The Politics of Illusion: From Socrates and Psychoanalysis to Donald Trump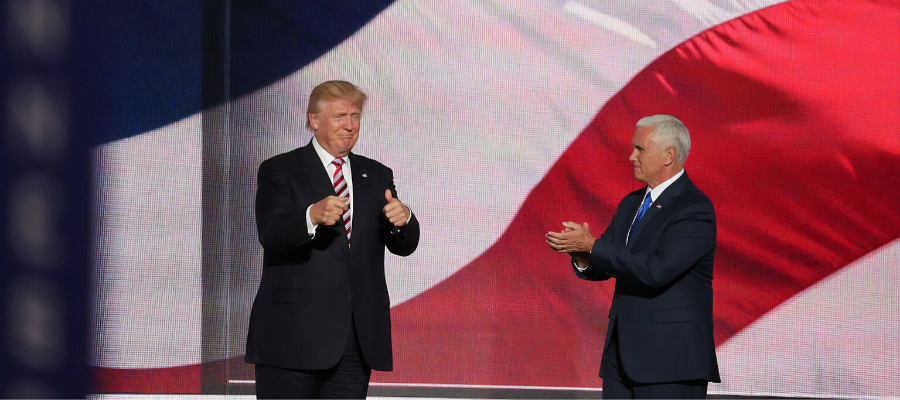 Perhaps the most remarkable (and, for many, alarming) political event in 2015 has been the rise of Donald Trump. At first, many people thought of Trump as an amusing sideshow. Over the months, mass-media talking heads (and also lots of my philosopher friends) kept repeating that there's "no chance" of Trump getting the republican nomination, and therefore that there's "no chance" of his becoming president of the United States. After each of his inflammatory statements, they declared that this time Trump has "gone too far" and predicted his downfall. But instead of fading away, he's now more prominent than ever, and is doing better than all of his rivals.
If you can't understand how someone like Trump can garner so much support, you probably have some misconceptions about how political salesmanship works. In what follows, I'm going to take a look at political rhetoric from the perspectives of two giants of the Western intellectual tradition, Socrates and Sigmund Freud, and then from the perspective of the psychoanalyst-philosopher Roger Money-Kyrle, a thinker who is not as well known, but whose take on propagandistic political speech is stunningly useful.
Let's kick off with Socrates. In the Gorgias, a dialogue written down by Plato around 380 BC, Socrates likens political rhetoric to junk food. Politicians, he claims, are more like pastry chefs than they are like physicians. They cook up sweet illusions rather than serving the public good. "Pastry baking has put on the mask of medicine," he remarks, "and pretends to know the foods that are best for the body, so that if a pastry baker and a doctor had to compete in front of children, or in front of men just as foolish as children, to determine which of the two, the doctor or the pastry baker, had expert knowledge of good food and bad, the doctor would die of starvation."[1]
There's certainly something to be said for Socrates' diagnosis. There's no question that politicians often pander to our vanity and self-interest. But there's also something wrong with it—at least when applied to modern-day politics. It's simply not true that only "foolish" people swallow political hype. Case in point: Martin Heidegger and Gottlob Frege, the two most influential philosophers of the twentieth century, were among the most intelligent, highly educated, and reflective people around at the time. They were also ardent fans of Adolf Hitler—as were many other European intellectuals. Moreover, many prominent Nazis were highly educated. Hitler's propaganda minister Josef Goebbels had a Ph.D. (in literature) from the University of Heidelberg, and eight of the sixteen men sitting around the table at the 1942 Wannsee Conference, where the horrific fate of Europe's Jews was sealed, possessed doctoral degrees.
As these examples make clear, neither education nor intelligence safeguard one against the corrosive effects of political illusions. In this connection, it's helpful to turn to the work of Sigmund Freud—in particular, his 1927 book The Future of an Illusion. Although it's mainly about the psychology of religion, Freud's book also sets out a general account of illusion that's useful for making sense of the power of political rhetoric.
Freud defines illusions as beliefs that we adopt because we want them to be true. We usually think of illusions as false beliefs, but Freud rejects this view and argues that illusions can be true as well as false. He argues that what makes a belief an illusion has nothing to do with the degree to which it accords with reality and everything to do with its psychological causes. This is a subtle idea, so maybe an example will make it clearer. Suppose that (1) Joe wants to be the best looking guy in the room, (2) all of the evidence suggests that Joe is the best looking guy in the room, and (3) Joe believes that he is the best looking guy in the room. If (3) is true and is caused by (1), then—according to Freud—(3) is an illusion even though (2) is true. Of course, it would also be an illusion if (2) was false.
Freud argues that religious beliefs are illusions because they are "fulfillments of the oldest, strongest and most urgent wishes of mankind." His point is that our lives are fragile, bounded by death, vulnerable to disease and tragic happenstance, and subject to the pain, injustice, and cruelty that we dish out to one another. He thinks that we are drawn to religious beliefs as an antidote to our ultimate helplessness in the face of these harsh realities.
Freud goes on to say that our position in the world, and the religious response to it, is like that of a young child who looks to a powerful parent for protection. "As we already know," he writes, "the terrifying impression of helplessness in childhood aroused the need for protection – for protection through love – which was provided by the father and the recognition that helplessness lasts throughout life made it necessary to cling to the existence of a father, but this time a more powerful one."[2]
There are clear links between Freud's take on religion and the psychological forces that are at play in the political sphere. Politics is a response to human vulnerability—especially the vulnerability arising from our dependence upon others. Our deepest hopes and fears permeate the political arena—including those that underpin the yearning for a Higher Power—and this makes us susceptible to political illusions.
Thinking about political speech using Freudian theory yields deeper than the one that Socrates left us. Whereas Socrates makes derogatory remarks about men who are as foolish as children, Freud offers compassionate insight into the terrors of helplessness and the longing for an omnipotent parent. And whereas Socrates describes politicians as having a knack for flattery, the Freudian account explains the potent attraction of those who promise to deliver us from our own worst nightmares.
As compelling as it may seem, the Freudian story is incomplete, for two main reasons. First, it doesn't say anything about the rhetorical means that politicians use to achieve their ends. Second, it doesn't give us a handle on why political rhetoric emphasizes insecurity and failure at least as much as security and success. These two gaps are easy to fill. Politicians manipulate our attitudes by arousing our anxieties and then offering us illusions as a way of escaping from them.
This is all very general. To get down to the nitty-gritty, it's helpful to draw on the insights of the British psychoanalyst Roger Money-Kyrle. During the 1920s Money-Kyrle left England, where he was working on his Ph.D. in philosophy at Cambridge University, to spend four years in Vienna undergoing psychoanalysis with Freud pursuing his philosophical research under the guidance of Moritz Schlick, the leader of the Vienna Circle. During this period, he visited Germany and went to a rally where Hitler and Goebbels spoke. It left a deep impression on him.
Money-Kyrle gives a vivid description of the rally in his 1941 paper "The Psychology of Propaganda."
"The speeches," he wrote, "were not particularly impressive. But the crowd was unforgettable. The people seemed gradually to lose their individuality and to become fused into a not very intelligent but immensely powerful monster" that was "under the complete control of the figure on the rostrum" who "evoked or changed its passions as easily as if they had been notes of some gigantic organ."[3]
For ten minutes we heard of the sufferings of Germany…since the war. The monster seemed to indulge in an orgy of self-pity. Then for the next ten minutes came the most terrific fulminations against Jews and Social-democrats as the sole authors of these sufferings. Self-pity gave place to hate; and the monster seemed on the point of becoming homicidal. But the note was changed once more; and this time we heard for ten minutes about the growth of the Nazi party, and how from small beginnings it had now become an overpowering force. The monster became self-conscious of its size, and intoxicated by the belief in its own omnipotence…. Hitler ended…on a passionate appeal for all Germans to unite.[4]
Observing Hitler and Goebbels in action led Money-Kyrle to the idea that for political propaganda to work, propagandists have got to convince their audience that they need to be saved from a terrible fate. The first step is to elicit a profound sense of depression—the feeling that the future is bleak, and that this situation is their fault. The next step is to drum up a paranoid sense of fear and hate in the audience by convincing them that they are under threat from powerful external enemies and insidious internal ones. Once they're thoroughly marinated in feelings of helplessness, and reduced to a position of infantile dependence, the skillful propagandist offers himself or his cause as the straight and narrow path to salvation: "He is all-powerful and must protect them. He is their conscience; and what he says is inevitably right."[5]
Now, consider Donald Trump's speech of June 16, 2015—the speech in which he announced his bid for the Republican nomination—in light of Money-Kyrle's analysis. He begins by eliciting feelings of depression and loss. "Our country is in serious trouble," he intones, "We don't have victories anymore. We used to have victories, but we don't have them. When was the last time anybody saw us beating, let's say, China in a trade deal? They kill us…. They're laughing at us, at our stupidity. And now they are beating us economically."
Having created a gloomy atmosphere, he transitions to the paranoid mode, representing good Americans as innocent victims of predatory outsiders.
When Mexico sends its people, they're not sending their best…. They're sending people that have lots of problems, and they're bringing those problems with us. They're bringing drugs. They're bringing crime. They're rapists…. It's coming from more than Mexico. It's coming from all over South and Latin America, and it's coming probably — probably — from the Middle East. But we don't know. Because we have no protection and we have no competence, we don't know what's happening.
Next, the bringer of bad news unveils his panacea. Salvation is at hand. The dangers will be banished. The problems will be solved.
Now, our country needs…a truly great leader, and we need a truly great leader now. We need a leader that wrote "The Art of the Deal." We need a leader that can bring back our jobs, can bring back our manufacturing, can bring back our military, can take care of our vets. Our vets have been abandoned…. We need somebody that can take the brand of the United States and make it great again.[6]
After repeating the first two movements a couple of times, driving his audience to a crescendo of enthusiasm (chants of "We want Trump" and "Trump, Trump, Trump, Trump, Trump"), he concludes, "Sadly, the American dream is dead. But if I get elected president I will bring it back bigger and better and stronger than ever before, and we will make America great again."
Over the next year, we Americans are going to be inundated with political rhetoric. I hope that the insights offered by Socrates, Freud, and Money-Kyrle will help you to resist political illusions, interrogate your own preferences, and become more discerning consumers of political speech; not just the speech of those politicians whom you oppose, but also, perhaps most importantly, of those whose political rhetoric captures your sympathies.
Log in or register to post comments