Ancient Renaissance Woman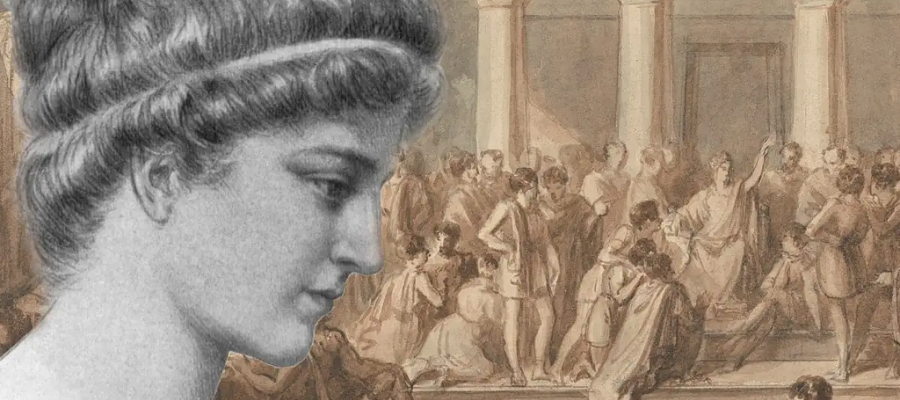 In her time—the 4th century CE—Hypatia was one of the most famous philosophers in Alexandria, and indeed in the ancient world. She studied and taught mathematics, astronomy, and philosophy; under her leadership, the Alexandrian School was highly prestigious, right up there with the Academy of Athens. Students came from far and wide, and from a variety of faith traditions: some were Christians, some Jews, and some Pagans like Hypatia herself.
Hypatia was a Neo-Platonist. Drawing on Plotinus and others, Hypatia taught her students about a purely intellectual divine force at the heart of the universe, termed "the One"; by living lives of contemplation, Hypatia believed, we could bring ourselves closer to this origin of all our souls.
This version of Neo-Platonism wasn't particularly offensive to early Christians; in fact, most of her students were Christians, and one of them, Synesius, even wrote a series of hymns that seemed to bring together Neo-Platonism and Christianity. Synesius described the divine as having three different aspects—one heavenly, one angelic, and one earthly—just like the Christian trinity.
It's true that there was a rival branch of Neo-Platonism which emphasized rituals, including animal sacrifice, and for obvious reasons, Christians drew the line at sacrificing an animal to pagan gods. But Hypatia's version of Neo-Platonism was less about rituals and more about cultivating virtues, the kind that allow you to transcend the physical and experience the One.
This background makes her death, at the hands of extremist Christians, all the more tragic. Cyril, the bishop of Alexandria, who wanted to take down the Roman governor Orestes. Since Hypatia was a friend and advisor to Orestes, and was powerful, Cyril decided to spread vicious rumors about her; these rumors eventually got her killed.
Hypatia's legacy lives on, however. She was a powerful intellectual figure; she had a unified philosophical system; she ran one of the most prestigious schools in the ancient world; and she accomplished all that as a woman in a male-dominated field. She's remained an inspiration to female philosophers throughout the ages. (There's a journal named after her—and even a recent movie based on her life!)
Hypatia wasn't entirely alone, of course, in the ancient world: there were other prominent female philosophers at this point in history, including Pandrosion of Alexandria, Sosipatra of Pergamon, and Asclepigenia of Athens. But these philosophers have never been given the same attention as their male counterparts. In spite of the movie, Hypatia is still not a household name like Plato or Aristotle—which is exactly why we're doing this series on Wise Women. We'll be celebrating sixteen unsung heroines of philosophy, from Hypatia in the 4th century to Judith Jarvis-Thompson in the 20th and 21st. Their philosophy has sometimes been overlooked and often under-rated—but not around here!
Log in or register to post comments