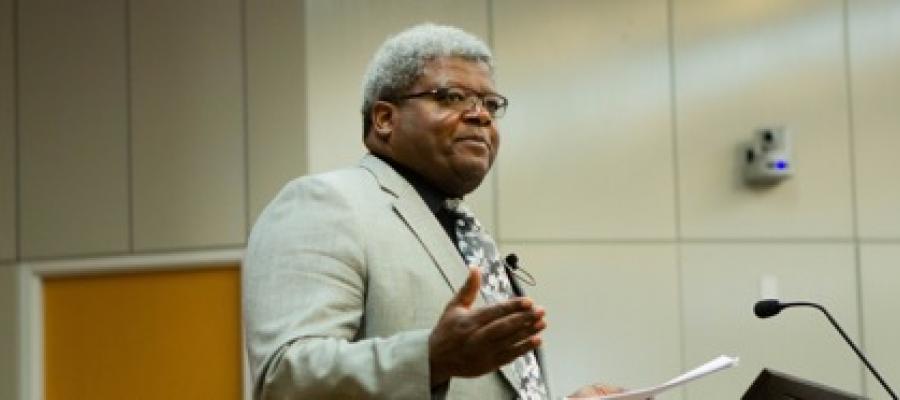 One Sunday in the spring of 2007, John and I walked into the back room of KALW to find Ken singing. Back then I was both Ken's PhD student and the director of research for Philosophy Talk, so it was always a treat to catch my advisor and boss being playful. He was coming up with different lyrics for Sinatra's classic "Love and Marriage." He sang:
Norms and Nature!
Norms and Nature!
Go together like a…
Ken, who had a lovely singing voice, was keeping his alive for the promos we were about to record. (Ben Manila, then producer of Philosophy Talk, was insistent on such things.) But Ken was also, in his way, announcing the theme of a book project that would occupy him on and off for the next twelve years.
That book would argue something big. Normativity—along with us humans steeped in it—does not fall metaphysically outside the natural order; rather, it falls squarely within it. There may appear to be a conceptual chasm between nature, governed by physics and chemistry, and the normative orders of meaning, rationality, value, and ultimately morality. But Ken wished to argue that that chasm is not conceptually impossible to cross. We just have to get the details right and understand what natural structures constitute meaning and value. Once we clear away certain philosophical obstacles—erroneous assumptions about language, etc.—the right theoretical bridge can be built.
In 2007, Philosophy Talk was still young. So at that time, Ken had two fledgling intellectual projects that were dear to him: his radio show with John, and his nascent book. Both went on to grow over the years—the radio show publicly and his book project privately. But after multiple drafts of chapters and various practice articles, he just recently settled on a title that he liked for the progressing book: A Natural History of Normative Consciousness.
Most academic philosophers know Ken for his technical work on language and mind. But it always seemed to me that this project on norms and nature, which ranged from metaphysics to metaethics, was closest to his heart. Somehow, all that other stuff—cool as it was—was a prelude.
Here's an example. Ken's latest book in philosophy of language, Meaning Diminished: Toward Metaphysically Modest Semantics, came out this year with Oxford University Press. But the Meaning Diminished manuscript really started out its life as a preface to his Natural History. It was meant to clear up some metaphysically burdensome views about language in order to make way for a realistic portrait of normativity. Just the work was so substantial that the preface became its own book.
Convinced of the importance of Ken's normativity project, and with the support of my departmental chair Eddy Nahmias, I invited him to Georgia State for an extended visit this past September. At about twelve years in, the book as a whole had become an adolescent and was thus ready for a workshop. So on September 13, the project that Ken sang about all those years ago saw an introduction to the world—or at least to a motley collection of philosophers from around Atlanta, along with Axel Mueller of Northwestern and Ram Neta of UNC, whom we had invited as commentators.
It would be futile for me here to try to describe in any detail the systematic structure and argumentation of Ken's manuscript. Still, I want to give a taste of his approach, of how he thought that from this "vast and layered labyrinth of nature" something extraordinary could emerge, which he called "norm mongering creatures engaged in a dialectic of ratification and resistance." In other words: humans.
So Ken's project was constructive. Part I (two chapters) sketched how it was possible to construct, out of the relatively basic resources of information responsiveness and logical syntax, a creature that had some forms of rationality, selfhood, and a quasi-Kantian ability to prescribe rules to oneself. Part II (three chapters) put the rational creatures thus constructed into societies with one another, in which these norm-mongers inevitably came into group and individual conflict and had to negotiate which entitlements would be endorsed and ratified—and which wouldn't—and how what emerges from this can suitably be called normativity in a natural world. Part III then explored the moral and metaethical consequences of I and II. Its two chapters would discuss two things: (i) how to be a relativist and (ii) how to "vanquish the lingering shadow of the long-dead God."
All that will strike most readers here as dense and theoretical, and it is. Yet in the workshop itself, Ken managed to outline and discuss his project with, as Axel later put it, a sense of "liberty, air, and creative-while-rigorous exploration of profound matters among equals."
I have often wondered why this project, of all things in philosophy, was so dear to Ken. I don't think I can say. But a story that Ram told me from the night of Ken's manuscript workshop will give a sense. Ram, Ken, and Axel were taking an Uber from dinner back to the hotel, and as Ram puts it:
That same day, it was reported that the California state legislature had just voted in favor of a bill that would require Uber and Lyft to provide full-time employee status for all of their drivers. As soon as we got into the car, Ken mentioned this fact without editorial and then asked the driver what he thought of the measure. The driver didn't approve of the measure, and Ken proceeded to ask why. Soon, all four of us were talking animatedly with each other about the personal and social benefits and costs of employment versus freelancing. For that brief period of his life, the Uber driver had become a philosopher at Ken's invitation.
Thus, in the back of an Uber, Ken was putting into practice the rational dialectic of ratification and resistance that he so eloquently portrayed in his never-to-be-finished writing.
Norms and nature . . . go together like a . . . what? After fishing around for the right word all those years ago, Ken never finished the rhyme to his song. Life moved on and we had to record promos. I am filled with sadness every time I think that he will never finish his great book project either.
I'd like to thank Rachel Lehmann, Axel Mueller, and Ram Neta for their help with writing this piece. Photo by Melanie Fan, Georgia State University College of Arts & Sciences.
Short Blog Title for Notifications: