#FrancisOnFilm: The Highs and Lows of 2016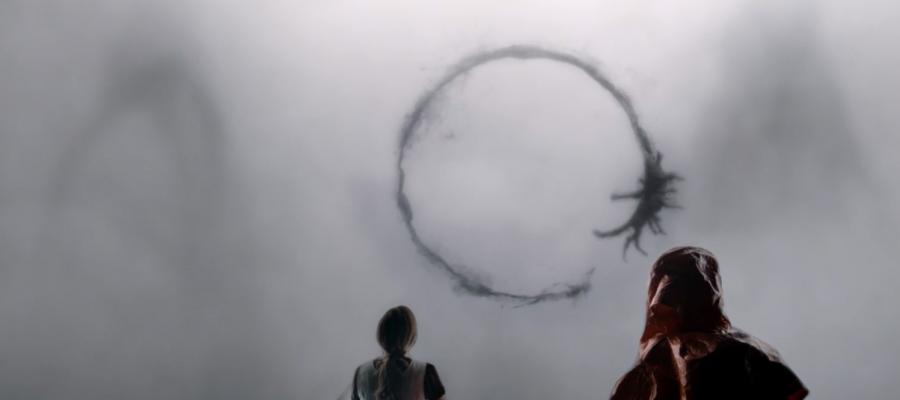 The end of a year is a time when film critics reflect on the best and the worst films of the year. Here are my top and bottom five picks for philosophers in 2016, listed alphabetically. Even the worst weren't awful; they just weren't my favorites. And I must admit what film critics often don't: there are a lot of films I didn't see, and I expect many of them were very good and some were worth missing. I'm the type who likes suspense, so I've tried to write these reviews on the assumption that it would be bad to give the endings away. Sometimes that's meant I've had to say less about he philosophy than I might have if I'd reflected on the significance of how the film ended up—and for that I apologize.
The Best
Arrival is a story of what it means to see the future and the past, how love and relationships matter even if they are evanescent, how failures to communicate are both easy and perilous, and how communication can be achieved through kindness. It stars Amy Adams as the linguist Louise Banks in a performance that has critics raving, and Jeremy Renner as the skeptical physicist Ian Donnelly. It's directed by Denis Villeneuve, a science fiction fan making his first science fiction movie. (His next will be Blade Runner 2049.) It's based on the short story, "Story of Your Life" by Ted Chiang, with some global tension thrown in. Against this background, Banks comes to understand the blob-speech and world view of the peaceful heptopods, seven-tentacled squid-like creatures who appear in ovoid ships from outer space. Who would have thought the Sapir-Whorf hypothesis, that the language you speak structures your world view, would play a central role in a popular movie? But I do have just a quibble: how Banks manages to interpret heptopod speech is never made clear in the film.
Land of Mine. Directed by Martin Zandvliet, Land of Mine premiered in Denmark in 2015, screened at a variety of film festivals (including Sundance, where I saw it) in 2016, and is in the running for Best Foreign Language Film at the 2017 Oscars. It is based on a devastating and little known piece of history: the Germans, believing that the Allied invasion of the continent would come through Denmark, buried over two million mines along the Danish coast; the Danes, after the war, used young German prisoners of war to remove the mines. Putting the prisoners thus in danger was a clear violation of international law; reports are that about 150 died and several hundred more were seriously injured by mine explosions. The Germans were twice victimized: enlisted at young ages by the Nazis who had no one else to send to war, and then used by the Danes to clear their lands. The scenes of the Danish coast are harrowingly beautiful. Roland Møller as Carl Leopold Rasmussen, the sergeant in charge of the mine removal, is a model of moral complexity.
Manchester by the Sea. Casey Affleck is Lee Chandler, a handyman living alone in a basement in Boston. When his brother dies of heart failure, suddenly but not surprisingly, Chandler is expected to become the guardian of his nephew. It's difficult to describe the film without giving away the plot; all I'll say is that Chandler constantly battles horrific memories out of loyalty to his brother. Directed by Kenneth Lonergan, the film is a probing exploration of moral failures and moral responsibility against a background of economic stagnation.
Moonlight is written and directed by Barry Jenkins and based on the play In Moonlight Black Boys Look Blue by Tarell Alvin McCraney. It tells the story of Chiron at three life stages: a small and bullied young boy nicknamed "Little," a teenager recognizing that he is gay, and an adult who has become a buff drug dealer. Chiron's coming of age in a Miami housing project is threatened by his crack-addicted mother and wisely looked after for a time by the drug dealer he later comes to reflect. Beautifully acted by all three Chirons (Alex Hibbert, Ashton Sanders, and Trevonte Rhodes), the film's central character speaks little but says a great deal. I'm told that the portrayal of Chiron's mother's life with drugs is utterly and depressingly accurate. The film reflects multiple facets of identities: how they are created and shift, how they are destructive and affirming, how they are undermined and undermining, and how they may ultimately prove ironic.
Swiss Army Man features three Dans: Daniel Radcliffe as its star and Dan Kwan and Daniel Scheinert as its directors. For good measure, there's also Paul Dano as its co-star. This isn't all that's unique about the film; Radcliffe plays a farting corpse who saves the life of Hank, a stranded sad-sack who has difficulty communicating with others and negotiating the world. Multi-faceted and functional, he is truly a Swiss set of tools. A philosophically intriguing of the film is what it makes of our physical bodies as things. Some critics have viewed the film as nothing more than potty humor—and it is that—but a compelling aspect of its humor is what it makes of what bodies can—or cannot—be.
The Worst
Fantastic Beasts and Where to Find Them is the adventures of Newt Scamander in New York City in 1926. Harry Potter fans will know of Scamander as the author of the Hogwarts textbook of the same name. The movie has impressive special effects, especially ones using mirrors to change worlds, and is sure to make a lot of money both itself and in sequels and spinoffs such as games. It perhaps raises questions about cultural differences between witches in the US and the UK. It is also very sympathetic to animals and has a happy ending. It could have been philosophically interesting about the differences between worlds (check out philosophy talk on What Might Have Been), but it wasn't, at least for me.
Lo and Behold: Reveries of the Connected World is Werner Herzog's overblown documentary of how technology is allegedly threatening our humanity. It starts out promisingly, with some fascinating footage about the early days of the Internet and the design choices that were made at the outset for openness and neutrality. But then it becomes Herzog's essay on everything that is wrong with modernity, with Herzog talking a lot. There are clips about everything from how films of tragic events can be intrusively replayed over the Internet to the possible dangers of intelligent robots. Far better to have focused on the implications of how the Internet was conceived and has developed rather than morphing into a neoHeideggerian critique of technology.
The Lobster. Lots of people loved this at Sundance and it is quirky and dystopian, which should count for something. The world is divided between those who are coupled and live in the City and those who are alone who apparently lack worth as individuals. The newly uncoupled are taken to a Hotel where they must find a partner within 45 days or be turned into an animal and banished to the dark Woods. Residents of the Hotel regularly search the Woods for escapees. Hotel residents also cheat to try to find mates so that they can resume life in the City. Director Yorgos Lanthimos won the Jury Prize at Cannes in 2015. The Lobster takes the need for coupling to a level never considered by Jane Austin. It presents a world that is either black or white, without a hint of moral subtlety even at the end.
Loving. I really wanted to like this movie, because it tells such an important story. Mildred and Richard Loving were married in the District of Columbia in 1958 after Mildred became pregnant with Richard's child. After they returned home to Caroline County in rural Virginia, they were arrested for being married, because Mildred was black and Richard was white and miscegenation was a crime in Virginia. Their case was ultimately heard by the US Supreme Court and became Loving v. Virginia, 388 U.S. 1 (1967), one of the most important Supreme Court decisions of the century and a precursor to Obergefell v. Hodges. (Mildred Loving's last public statement before she died in 2008 was an expression of support for same-sex marriage.) In the movie, Mildred (Ruth Negga) is limpid-eyed and beautiful and Richard (Joel Edgerton) is suitably earnest and taciturn. Caroline County provides lovely scenery and David Jensen is predictably mean-spirited and racist as the judge who convicts them. But frankly the movie is often earnest without capturing as well as it should how change is wrought by a coalition of good people. Maybe that's the point; ordinary people change history and telling their stories matters. And maybe it's the lawyer in me, but it might have been nice to have more about how pervasive anti-miscegenation laws were (40 states had them) and how segregation affected so many aspects of life in Virginia and elsewhere in the US. After Brown v. Board of Education, Prince Edward County, just a few counties over from Caroline in Virginia, closed its schools in 1959 rather than integrate them. Montgomery County, Maryland, the well-off Washington suburb where I grew up, was the first Maryland county to have fully integrated its schools—in 1961. Central Point, the town in Caroline County where the Lovings lived, was actually an anomaly; it had been, according to Richard Staples in a 2008 opinion piece in the New York Times, "a visibly mixed-race community since the 19th century . . . home to a secret but paradoxically open interracialism" of the descendants of slaves and their masters.
Silence is director Martin Scorsese's re-enactment of the history of the expulsion of the Jesuits from Japan in the effort to drive Christianity underground. It is long, bloody, and crucifying. It is being praised by critics for the grandeur of its expression of faith, survival and disillusionment. I found it long on cruelty and short on depth about cultural and religious differences.
The Most Controversial
The Birth of a Nation (redux). This account of Nat Turner and the slave rebellion he led got standing ovations at Sundance, where it won both the Audience Award and the Grand Jury Prize in the U.S. Dramatic Competition. Nate Parker, the film's director, co-producer, and star, spent years raising the money to produce the film. The film sold to Fox Searchlight for a reported $17.5 million but its gross receipts to date have fallen far short of this amount. The film has encountered many troubles, not least of which were Parker and co-writer Jean Celestin's acquittal of rape charges while they were students at Penn State University in 2002. The film's account of the history is problematic, too; the brutal rape of Turner's wife, depicted as central to his radicalization, never occurred. Nor is much else of the movie historically accurate, as historian Leslie Alexander carefully details in her review for The Nation. Turner was motivated by his belief that slavery was against the word of God, and the rebellion did not take place as it is portrayed. Alexander also criticizes the movie for the passivity with which it depicts black women. Still, there was a reason why Sundance audiences loved the film, and not just because they are all bleeding-heart, politically-correct white liberals. Slavery was a moral horror, the original Birth of a Nation replicated the immorality despite its renown as a movie, and Parker made the movie with passion and conviction. Would that there were more film makers with such passion for social justice, no matter their personal flaws and the flaws of their films. If you can't find Birth of a Nation, because it has failed so badly at the box office, do at least read Colson Whitehead's superb novel The Underground Railroad and try to find 12 Years a Slave on Netflix. And reflect on the insights of the 1950s' new literary criticism that detached works from their authors and think about whether historical fiction can be rejected for inaccuracy. And observe why African Americans turn out to be the target of vitriolic criticism when they try to change things such as the shape of US health care.
And a Film from the Past
We just watched Antonioni's Blow Up over the New Year's weekend. I hadn't seen it since just after it came out in 1966. It has great scenes of London in the era of the Beatles, tennis without the balls (much easier not to miss), and a mysterious question about perception and reality.
Log in or register to post comments