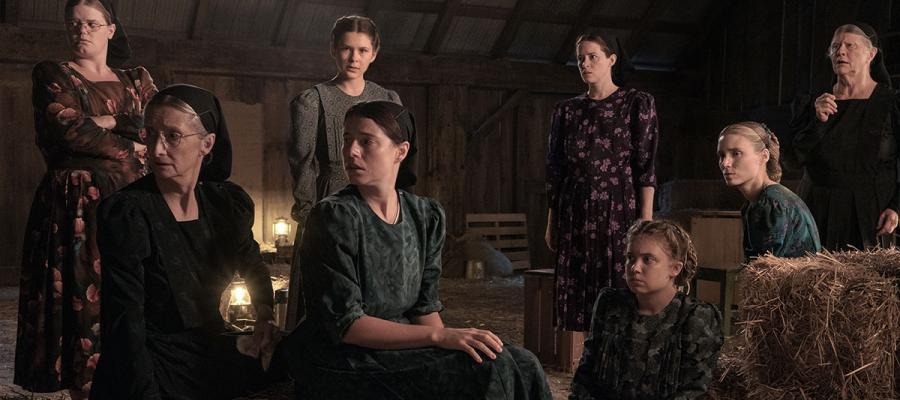 A caller in this week's episode nominated "Women Talking" for a Dionysus Award. Guest co-host Jeremy Sabol takes that as a springboard to blog about movies and community.

What are we losing as we drift towards a cinema that we experience alone? As we heard from our Roving Philosophical Report, more and more cinemas are struggling to keep their doors open, and more and more people consume films in their own homes, often alone. Women Talking is a challenging film about what it means to be a community, but it's also a film that reminds us that films were meant to be watched in community.
Most of the run time of Women Talking is accurately described by the film's title. All the women in a small, isolated Mennonite community gather in a drafty barn to deliberate about what they should do in the face of a horrific communal trauma.
If we see the movie in a cinema, we too are sitting together, in a cavernous theater, not so unlike a drafty barn. We, like these women, are diverse in our experiences and in our views about how best to live together. Of course the differences are vital: we, unlike these women, are not processing a terrible event that has befallen us all. We likely also lack a belief system that unites us in purpose. We're not looking into each other's eyes, talking with each other, trying to reckon with our differences. Instead, we're watching together, alone perhaps in our reactions but together nevertheless.
So then: are we somehow supposed to decide something together in the theater, in the same way that the women are deciding on the big screen, in that barn? Is that what the movie is asking of us, impossible as that is?
And then it gets personal for the blogger at hand. Am I, a man, permitted a vote in this imaginary, impossible decision? Perhaps instead my role is to record the discussion and the votes, as the young teacher August does in this film. There are, of course, other roles for men modeled in this film, even though they figure only briefly on screen. There are the attackers. There are the men in the community to have left to post bail for the attackers. There is the abusive husband, returning menacingly by lamplight. I look around in the darkened theatre and take stock. Where do we see ourselves onscreen?
If "we" vote to leave - in the film, a courageous, transgressive act of futurity on the part of these women - what does that actually mean for us filmgoers in the great barn of the movie theater? What is that place that should we leave, and where would we go? And - certainly most urgently for me personally, but not most morally urgent by far- am I a part of this "we", or am I a part of what is being left behind?
The film does not begin to answer these questions for me. Instead, viewed together with hundreds of strangers, the film seems to task me with generating my own replies to these questions. It outrageously asks me to cast my vote in an unfamiliar collectivity in a dark room, a vote which will not be heard but which I must nevertheless cast in public, as we all file out of the theater together.
All of that burden, all of that responsibility, all of that challenge, all of that opportunity—that's because there's a "we" there, watching together in the theater. If I watched the film on my laptop, perhaps these questions would never even arise in the first place. And certainly if they did, they would not weigh on me as they do when I am surrounded by others. The barn on screen is not cozy or conducive to collective deliberation. The women in that barn are shown feeling the full weight of the decision they are making, and yet perhaps they are able to shoulder that weight because they are in it together. And maybe the same is true for us viewers — at least as long as movie theaters continue to exist.

Log in or register to post comments