What is Cultural Appropriation?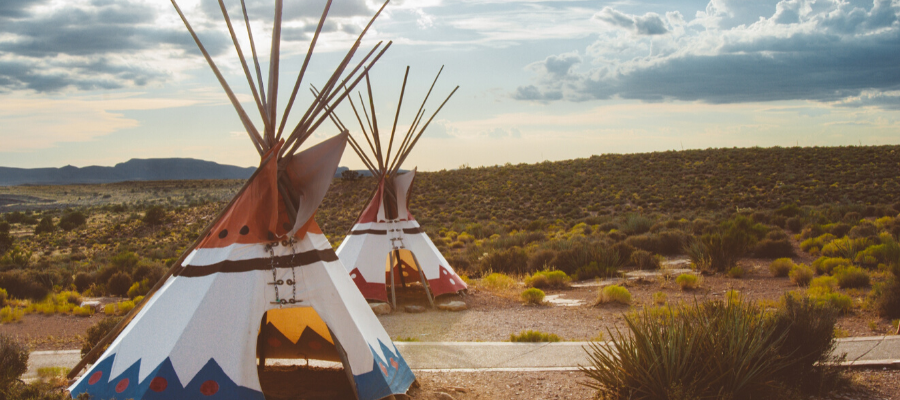 This Halloween we'll see kids, college students, and other revelers dressed in costumes ranging from scary to hilarious: Chewbaccas, spandex police officers, Harry Potters, Frodos… even Elvis. But at any party, we have a good chance of seeing cultural appropriation. We might see white people glibly dressed in mock Native American headdresses, frat brothers dressing "ghetto", people who have no real connection to India wearing red dots on their foreheads, would-be Zulus, Geishas (from Texas), and of course a gringo in a sombrero.
Such mimicry has come under increasing condemnation recently, and probably for good reasons. But, we might wonder, what exactly is wrong with it? And how precisely should we define "cultural appropriation" anyway?
On the basis of the examples above, we might say cultural appropriation is use or mimicry of artifacts or manners from another culture without permission from any members of that culture.
But it's not hard to see that this definition won't do.
It implies, wrongly, that every time someone from one culture uses an idea from another culture, without explicitly asking, that "cultural appropriation" has occurred. But I don't think, for example, someone who goes to France and then comes home and makes crepes should be called a "cultural appropriator." (In some weak sense, sure, but that's not the sense we're after.) Nor should someone who visits China and learns how to use chopsticks or how to sing a song they heard on the radio.
Much if not most culture (good and bad) results from different cultures bumping into each other and borrowing or just absorbing ideas. So if we're to talk about "cultural appropriation"—as opposed to just "culture"—we have to mean something more.
So the definition above is an instructive failure. I think many people would be tempted to define "cultural appropriation" in this fashion. But we've seen that it wrongly includes mere cultural influences and instances of learning that are in no way problematic. What next?
It seems to me that there is no way to understand the concept of cultural appropriation properly without understanding the historical background of colonialism. Colonialism was and is the systematic subjugation of one group of people by another, where that subjugation is motivated and rationalized by racist ideology. Examples of this have occurred throughout Asia, Africa, and the Americas, usually with Europeans as the aggressors, though Chinese, Japanese, and Ottoman empires have historically established colonies as well.
In my view, it's the latter component of colonialism, the racist ideology, that is crucial for understanding what cultural appropriation really is. I think anything worth applying the term "cultural appropriation" to will be something that expresses at least a psychological vestige of a racist ideology that figured in one of the large-scale colonialist projects.
Racist ideologies characteristically portray an entire group of people, a race or ethnicity, as simplistic, naïve, lazy, untrustworthy, or violent. And such portrayal, embedded in the mind in the form of stereotypes, is used in colonialist contexts to rationalize more brutal forms of mistreatment and ultimately appropriation of much more than just culture.
So this is what differentiates merely using chopsticks to eat (which is not cultural appropriation in any interesting sense) from dressing up for Halloween like a "Chinese" guy from a bad Kung Fu movie (definitely cultural appropriation). In the latter case, the non-Chinese person wearing the outfit expresses—typically unwittingly—a psychological tendency, a tendency to think of another person as a simpler kind of creature than oneself. Furthermore, it is a tendency to think of a whole class of other people in simplifying terms. This psychological tendency is the vestige, or one manifestation of it, that I referred to above.
So a more accurate definition of "cultural appropriation" goes like this: cultural appropriation is where people from a group that oppressed or oppresses another group mimics or represents cultural artifacts or manners of the oppressed group in a way that expresses or reinforces psychological elements of the racist ideology inherent in the colonialist project responsible for the oppression. Such appropriating mimicry can take many forms, but what unifies them will be an implicit or explicit view of other people that makes them out to be less than what they are.
Is cultural appropriation inherently morally wrong? Or is it merely stupid and abrasive? The progenitor of cultural appropriation, colonialism, was and is certainly morally wrong, without question. But does the same go for the mere putting on of a silly Halloween costume?
The details of any given case will matter. Furthermore, I think this is an area where it's better to think in continuous terms of morally better and worse, rather than wrong or not wrong simpliciter. A European's going to a Halloween party in a traditional Congolese suit they somehow acquired may not be a gross moral transgression, though it might make us morally uneasy. But whatever its moral status, going in blackface is clearly much, much worse.
The moral vice, when there is vice, consists in perpetuating components of a racist ideology that, in more pronounced forms, motivates and rationalizes much more significant harms. We may grant that one outfit on one occasion might not do much more harm than leaving a few people seriously annoyed. But it signals to members of one's group—the currently or historically oppressing group—that certain patterns of thought about another group are okay, even something to be enjoyed. Against the background of such signaling, more coordinated aggression can emerge.
These thoughts may all seem too weighty to be about what to wear to your next Halloween party. And perhaps in some way they are. But the psychological fact of implicit racism and other forms of prejudice are by now well known. Given that, the correct thought is that it's better morally safe than morally sorry.
In any case, you can always be Chewbacca, Harry Potter, or a cop in spandex. You'll then be merely silly, but perhaps that's a good thing.
Log in or register to post comments