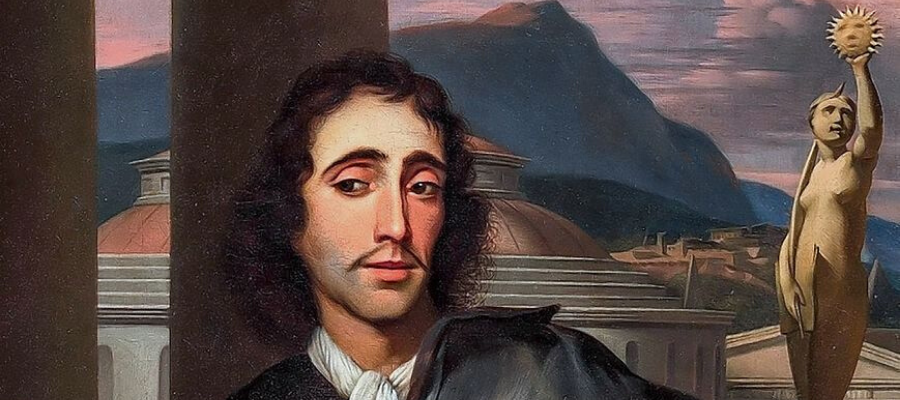 Baruch Spinoza is sometimes called "the father of modernity." Spinoza, along with Descartes and Leibniz, is considered one of the great rationalists of the 16th and 17th centuries. Of the three of them, Spinoza was philosophically the most radical. Both Descartes and Leibniz found a place in their systems for something like the traditional Judeo-Christian God, a personal God, who created the rest of us. Spinoza denied the authority of the Bible, the Judeo-Christian idea of a transcendent God, and opened the door to the secular philosophy of the modern age.
Descartes said he was going to --- as we say on Philosophy Talk --- question everything. But he didn't really live up to his promise when he got to God. Spinoza did. He once said "The highest activity a human being can attain is learning for understanding, because to understand is to be free." This wasn't a common idea, even in the 1700s. But Spinoza didn't flinch.
But was Spinoza really an atheist? He didn't apply that word to himself, and he is often called a pantheist, right? God is everything, and everything is God? If everything is God, I guess God exists.
According to Spinoza, there is only one substance, one independent thing, in the universe, namely, the universe as a whole. We only know it by two of its aspects, the Mental and the Physical, but there are many more aspects to it of which we are ignorant. It is not just dead matter, but active and alive, in many ways we can't contemplate. Spinoza was happy to call this One Thing God. But his God was not a transcendent God, existing apart from a world He created, but an immanent God.
In his system, we human persons are not immortal mental substances, as Descartes and Leibniz thought, but mere modes. If God is a pond, we are ripples in the pond. We are each what a couple of aspects of God is like, for a time, along a path. Like ripples, we don't last forever.
That's doesn't sound very much like the God of the Old Testament, or Christianity, and people are demoted from eternal spirits to ephemeral ripples. So, maybe he didn't think of himself as an atheist, but it's not surprising people called him that.
On July 27, 1656, when he was 23, Spinoza was issued a harsh writ of herem -- basically excommunication -- which never been rescinded. This meant that he was thought to have done "monstrous deeds" and espoused "abominable heresies". We are not told what those deeds and heresies are. But they don't come from his books. His great books came later, the most famous, his Ethics, was posthumous.
Perhaps he was going around the streets of Amsterdam, proclaiming that there was only one substance? But this seems a little thin to hang an excommunication on. More likely it was other ideas, a bit less abstract, that got him in to trouble --- things like rejecting the immortality of the soul, and God as portrayed in the Old Testament. He suggests the Bible is a bunch of stories cobbled together by ignorant old men. He fought for free speech and toleration his whole life --- not favorite causes of the Sephardic Jews of the time. So I imagine he was a major irritant to the community.
Stephen Nadler, a great scholar, suggests that excommunication came as a relief. Spinoza became a bit of a recluse in Rinjsburg near Leiden, and then near the Hague. where he did an enormous amount of work before his early early death at 45. Sounds like he made use of all the time saved from not attending Bar Mitzvahs and Seders that he wasn't invited too. And that he died not knowing of the fame which awaited him. In time the brilliance of his ideas and the closeness of his reasoning won over generations of philosophers, and he became recognized as the the father of modernity.
Log in or register to post comments