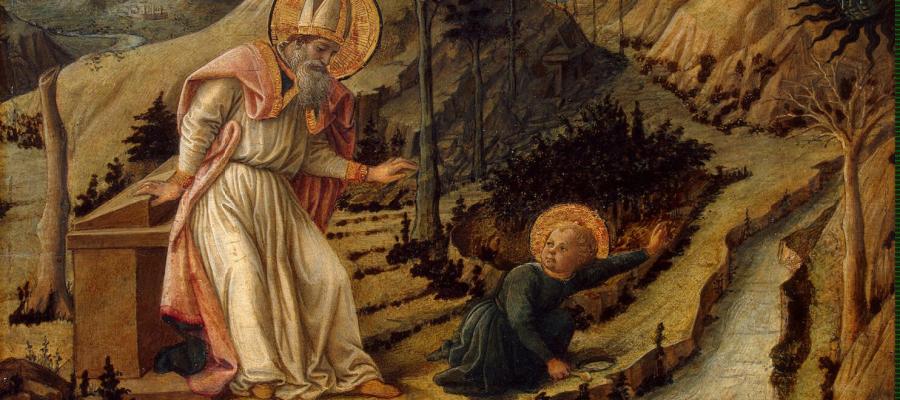 What an interesting philosopher he turned out to be! And an interesting man, too. Set aside his historical importance --- the fact that he above all others brought together the Greek and Hebrew aspects of Christianity, that his work against the heresies of Arianism, Pelagianism and Manicheanism was tireless and and that, as many think, he is responsible for many of the more unfortunate aspects of Christianity, such as the low status of women, the negative attitude towards sex and other enjoyable bodily appetites, and the harsh doctrine of original sin. Just read him as a person with one great philosophical skill: he knows how to get puzzled by things, and then thinks hard about what to say about them.
Augustine's mother, Saint Monica, was a Christian, and wanted him to become one. When he got an involuntary erection as a teenager in the public baths, she was mortified. His father wasn't Christian, and took pride in his son's precocious erection. So Augustine started life somewhat conflicted. He spent the first part of his life as a Manichean, much to his mother's distress. He led a successful life as a teacher of Rhetoric, ending up with an important position in Milan, the intellectual capital of the Roman Empire in those days (4th and 5th centuries). Monica followed him, nagging him to become a Christian, without effect. He had a mistress, enjoyed sex, and was famous and influential.
His reluctance to please his mother and become a Christian stemmed from his philosophical bent. He took the problem of Evil quite seriously (even before he came to regard his own healthy appetites as part of the problem), and thought that the Manichean solution, that God wasn't omnipotent, but had to battle ceaselessly with the forces of Evil, the earth being a main battleground, was intellectually preferable.
But eventually, as a result of continued pressure from Saint Monica, exposure to Saint Ambrose in Milan, and disappointing interactions with the leading Manichean intellectuals (and perhaps some intervention by the Holy Ghost), Augustine became a Christian. He decided that he would not only be a Christian, but a priest, which meant celibacy; hence, his famous prayer, "Lord give me chastity and continence, but not yet."
Once fully converted, he returned to Africa, became Bishop of Hippo, and became the leading intellectual in Christendom, writing tirelessly, fighting the big heresies of Arianism, Pelagianism, Manichenism, and Donostianism. Arianism had already been declared a heresy at Constantine's Council of Nicea in 325. Arians thought that Jesus was a created being, not identical with God; the Nicene Creed affirms that Jesus and God are of the same substance, which usually in philosophy means one and the same thing. The Trinitarian Doctrine, that the Father, Son and Holy Ghost are one being, makes little sense as far as I can see, and is the reason Moslems, among others, have doubts about Christianity being a monotheistic religion.
Pelagius was a British Monk who read Augustine's Confessions and was shocked at what he found. Pelagius has the sort of straightforward idea that we have free-will; we can freely choose to do the right thing or the wrong thing, and we are punished or rewarded accordingly. Augustine said that this was true of Adam, but since his sin we have not had the power to the right thing, except by dint of God's Grace. The good news is that if we ask for his Grace, we get it. However, since it seems that asking for his Grace is an instance of doing the right thing, how comforting is this? Augustine's view of original sin, free-will, grace, and the like became orthodoxy, although the Catholic Church didn't push the point. His view appealed to Luther, and other Prostestant "reformers", and became the basis of PreDestination and a number of other things most modern protestants would rather forget.
Manicheanism was the religion that Augustine bought into in the first part of his life. It's founder, Mani, conceived of himself as some kind of Christian. It was outlawed, reviled, discredited and so on time and time again through early Christianity, but kept cropping up.
Augustine's rejection of Manicheanism meant that he had to come up with an alternative account of Evil, and his efforts to do so, which are detailed in his Confessions, are influential among Christian theologians to this day. The main components are:
The Big Picture Argument. Just because something considered in isolation seems vile, disgusting, stupid, and the like, doesn't mean that it is evil. For it might be a necessary part of the virtue, beauty, or intelligence of the larger whole of which it is a part. Agatha Christie novels always have a murder in them, which is sort of ugly in isolation, but without the murder, how interesting would the whole mystery be? (This isn't Augustine's example).
The Free-will Defense. God thought that a world with Free Agents in it would be better than one without. He could have had a world with virtuous automatons, who did just what he programmed them to do. But what a bore that would be. And if one of those automatons loved Him, what would that mean? So he created a world with Free Beings in it, even though he realized that by doing so, inevitably some would choose to do evil things. Hence, as an instance of the Big Picture point, the best of all possible worlds, because it contains freedom, also contains evil
Angels, Devils, and Natural Evil. When we think of free creatures, we naturally think of humans, who certainly do their share of evil deeds. But not all evil seems to stem from human action. How about cancer? And the suffering of innocent animals? And earthquakes. However, Augustine thought that there were a lot of other free creatures creating havoc.
Pride. This all suggests that God has some plan, such that, if we could see it, we could see that this is, in spite of the genocide of Indians, the Holocaust, cancer, war, pestilence, and so on, the best of all possible worlds. If we could see the Big Picture, all would fall into place. But who can see such a picture? But to expect to see the Big Picture is to commit the sin of pride. God is infinite, we are finite, very finite, so we shouldn't expect to figure out what He might have had in mind.
These are, as far as I can see, the basic elements of Augustine's "theodicy" --- a theodicy is basically a solution to the problem of evil. These basic elements are the basis of all subsequent theodicies that I've ever seen.
A cynic might say that it's a good thing that Christianity is so implausible (at least, superficially considered), otherwise Saint Augustine's intellect wouldn't have been challenged, and he wouldn't have produced so much thoughtful, truly interesting philsophy, full of distinctions and insights.
The Donostian Heresy, by the way, had to do with whether we could know that a priest really was a priest. Donotists said we really couldn't. Suppose his lineage goes back through some priest that had forsaken his faith, perhaps under Roman torture. Augustine defended the practical answer, from the Church's point of view: a priest is a priest even if some priest in the succession of priests that led to his being a priest committed some terrible sin. Fighting this particular heresy, as far as I know, didn't provoke Augustine to come up with any very fecund philosphical ideas. But perhaps it shows his practical side.
Log in or register to post comments