The Only Mattering Worth Caring About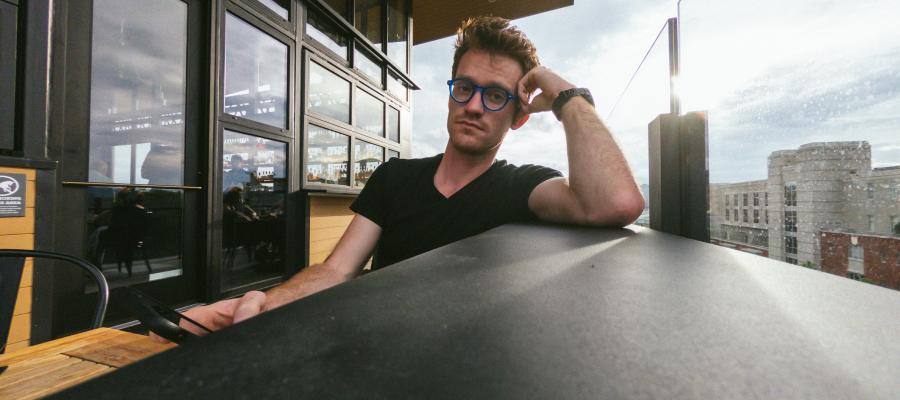 Schopenhauer's view of life certainly seems bleak and pessimistic. Consider the following description of the life of man (and animals):
Willing and striving are its whole essence, and can be fully compared to an unquenchable thirst. The basis of all willing, however, is need, lack, and hence pain, and by its very nature and origin it is therefore destined to pain. If on the other hand, it lacks objects of willing, because it is at once deprived of them again by too easy a satisfaction, a fearful emptiness and boredom comes over it; in other words, its being and its existence become an intolerable burden for it. Hence its life swings like a pendulum to and fro between pain and boredom, and these two are in fact its ultimate constituents. This has been very quaintly expressed by saying that after man had placed all pains and torments in hell, there was nothing left for heaven but boredom
Interestingly, the pendulum swinging to and fro betwixt the pain of desire and the boredom of attainment pretty much describes the approach taken to sex by Phillip, the Schopenhauer stand in in Irv Yalom's novel The Schopenhauer Cure. Phillip pursues women with a passion and urgency evidently borne of some kind of emptiness. But as soon as he makes a sexual conquest, he experiences not pleasure and fulfillment, but utter boredom. Almost immediately, he returns to the chase with the same urgency and the whole cycle repeats itself. Irv, by the way, will be our guest tomorrow. I don't doubt we'll spend lots of time talking about The Schopenhauer Cure and what seems to me it's non-Schopenhauerian ultimate message.
Schopenhauer's pessimism is deeply held and forcefully argued. He clearly sees it as integral to his metaphysical, ethical, and aesthetic system. Notice how he heaps ridicule and scorn on the optimist:
...I cannot here withhold the statement that optimism, where it is not merely the thoughtless talk of those who harbor nothing but words under their shallow foreheads, seems to me to be not merely an absurd, but also a really a wicked way of thinking, a bitter mockery of the unspeakable sufferings of mankind. Let no one imagine that the Christian teaching is favorable to optimism: on the contrary, in the Gospels world and evil are used almost as synonymous expressions.
What I want to do briefly in the rest of this post is to lay out an argument that maybe, just maybe, Schopenhauer's pessimism is unwarranted and a trifle overblown. I don't mean so much to suggest that Schopenhauer is wrong to be a pessimist. I'm not about to argue that this is the best of all possible worlds, as Leibniz would have us believe. I'm more concerned to suggest that you could have a metaphysics like Schopenhauer's and could, in particular, accept a lot of what he has to say about the nature of the will, and still not be driven to anything so severe as his pessimism Or so it seems to me. What Schopenhauer misses, I think, is the power of creatures like us to create values ex nihilo, in a sense, from the very emptiness of the nature. He seems to think that if value and meaning don't reside in, as it were, the antecedent universe itself, then they can't reside anywhere. But that I think is his mistake. Values exist because we create them. And the kind of story he tells about the will seems perfectly consistent with such an approach.
Without plunging deep into Schopenhauer's metaphysics, the argument I want to make is a little hard to state. But let me try. Suppose that we grant Schopenhauer that human life, indeed all existence, is the "objectification," as he calls it, of the ceaseless striving of an aimless, meaningless will, a will that is the inner essence of all that exists. Suppose too that this will 'cares' nothing for the well being of individuals. As Schopenhauer puts it:
Nature too, the inner being of which is the will-to-live itself, with all her force, impels both man and the animal to propagate. After this she has attained her end with the individual, and is quite indifferent to its destruction; for, as the will-to-live, she is concerned only with the preservation of the species; the individual is nothing to her.
So far, so bleak. But even if we grant that we as such simply don't matter to the great scheme of things, that nature is indifferent to us, what exactly follows from that? After all, we matter to ourselves. Indeed, our capacity to matter to ourselves is built on the very stuff about which Schopenhauer goes on at such great length. Think, for example, about what he has to say about our desires and about our knowledge. Our desires are the proximate source of our own ceaseless striving. He thinks they are merely sources of pain and suffering. But why think that, exactly? Admittedly, where there is a desire unsatisfied, there is disquiet and a striving toward fulfillment. But if my desire can be fulfilled, especially if I can conceive that my desire can be fulfilled, then the desire sets me a project. Doesn't the capacity to be set a project in this way make me an entirely new kind of thing. I am a thing that has and pursues projects. I am not just nature's tool. Nature may have its own uses for me. But I also have my uses for myself. Let nature do with me what it will, let it discard me when I have served the reproductive needs of the species. Still, there is what I want. What I strive for. What projects I give myself. Those projects matter to me, whether or not it matters to nature whether I ever get what I want.
Think of the earth. The earth is an objectification of the all encompassing will, Schopenhauer would no doubt say. Though the earth has endured for billions of years, its existence too is a matter of indifference to nature at large. If the earth were consumed by the sun tomorrow, nature would go on without a hitch, with no remorse or regret. But does that mean that earth does not matter to us. Our caring is enough to make the earth matter, not to the universe at large, but to us. Does our caring stand in some need of vindication from nature? I don't see why it should.
Schopenhauer would probably say that it's an illusion that your projects are "self-given." When you learn to see yourself under the aspect of the will, you will see that you are nothing but nature's only temporarily useful tool. But that's the step that I don't think is inevitable. We have indeed been constituted by blind, uncaring nature. And nature is through with us in the blink of an eye. But we have been constituted by her as creatures who are capable both of knowing and desiring, by Schopenhauer's own lights. Merely this, however, already gives us at least the beginnings of the capacity for creating values, as it were, out of the nothingness that is nature. The values we create are only our values and not nature's own. Nature doesn't have any values. It's blind and aimless, just as Schopenhauer alleges. But that doesn't mean that we have to be. Does it?
Log in or register to post comments