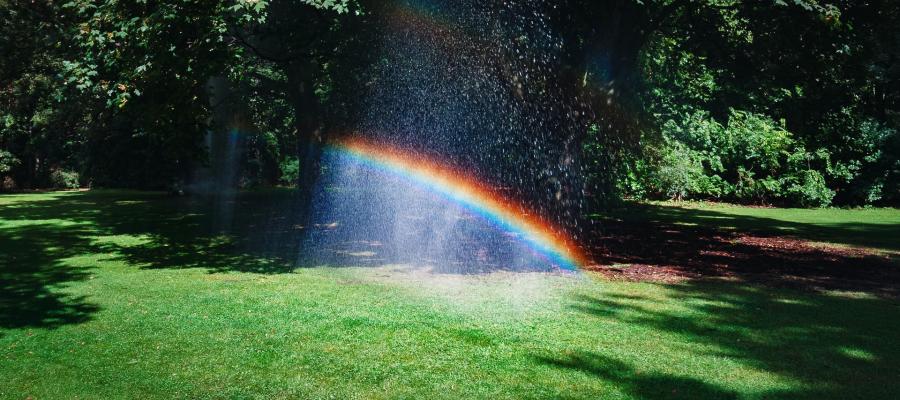 Should a sane, rational person ever believe in miracles?
We all believe that the San Francisco Giants won the World Series in 2010. That was surely a miracle. The Giants victory was unlikely, against the odds, and surprising. And it answered the prayers of long-suffering Giants fans everywhere.
But it wasn't a real miracle, of the sort that religious people believe in, but many philosophers and more or less scientific types are skeptical about. Real miracles require a break in the laws of nature through divine intervention or some other supernatural force.
Real miracles are things like Jesus walking on water or bringing Lazarus back from the dead. Physics and biology tell us things like that can't happen. But Jesus has divine powers that can't be shackled by mere physics or biology.
So our question isn't whether a sane, rational person could ever believe in pseudo-miracles, like the Giants winning the World Series, but in real miracles.
Lots of people actually do believe in miracles. People who survive cancer against all the medical odds sometime regard that as a miracle – a real miracle, the sort that requires divine intervention. The question isn't whether people do believe in miracles. People believe in all sorts of things. The question is whether people should believe in them. What would it take to convince a reasonable person that a genuine miracle has actually occurred? At a minimum, you'd have to have reason to believe that something quite out of the ordinary has happened. But surely that's not enough. Consider winning the lottery. It would be a huge and happy coincidence if the numbers randomly printed on my ticket by the ticket-printing machine matched the numbers on the little balls randomly spewed out by the lottery machine. But that wouldn't be a miracle. It wouldn't involve a single violation of the laws of nature.
You shouldn't believe a miracle has happened unless you've ruled out all the non-miraculous alternatives – no matter how improbable those alternatives might be. But suppose I see you walking across the water -- just like Jesus. There are no hidden walkways lurking below the surface. You're not wearing inflatable shoes. You're not being supported by gossamer rope tied to a helicopter. You haven't learned to wiggle your toes rapidly enough to keep you afloat. Shouldn't I conclude that the laws of physics have been locally suspended and we've got a genuine miracle on our hands?
Probably not. It's more likely that I've missed some scientific alternative than that I've actually seen a miracle. Look, as soon as one is tempted to think he's witnessed a miracle, he should stop and think again. It's physically possible, for example, that the molecules under your feet as you walk across the water bond together strongly, completely by accident, forming a kind of traveling bridge. At least that's what scientists tell us. They say it's possible that all the oxygen molecules in a room should suddenly collect in a corner, leaving us breathless. We'll never witness this, because it is so improbable; but it is possible. So maybe you can walk on water. But there are no miracles.
Still, doesn't that make the universe a pretty dull place?

Photo by Alistair MacRobert on Unsplash
Log in or register to post comments
Related Shows
Nov 06, 2011

Religions rely on miracles to demonstrate the authenticity of figures thought to have supernatural powers.
Sep 29, 2019

In science as well as everyday life, we often feel the pull of simpler, more elegant, or more beautiful explanations.
Apr 20, 2014

Some claim that the collapse of the Twin Towers on September 11, 2001 was actually caused by a controlled demolition orchestrated by the U.
Jul 22, 2018

We've all heard the phrase, "You can't argue with science." Appealing to scientific fact as a way to settle a question makes sense give...
Mar 02, 2008

Astronomy is science; Astrology is pseudo-science. Evolutionary Biology is science; Creationism is pseudo-science.