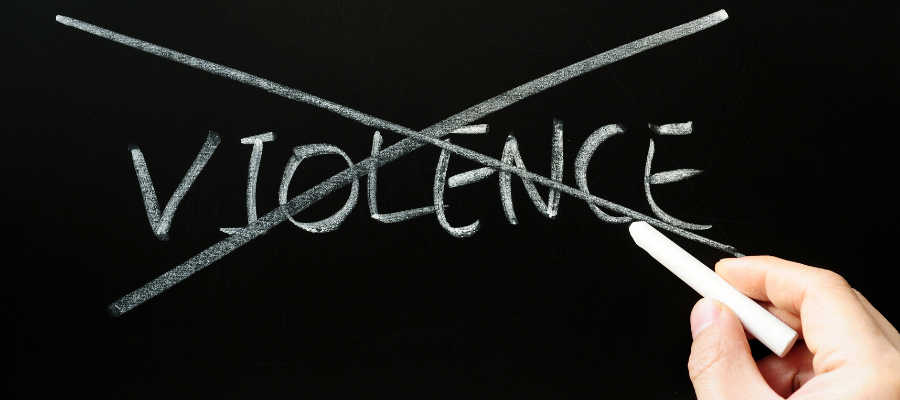 This week we're asking about the Art of Non-violence. And it is an art -- the trick is knowing when and where it will actually work. After all, it looks like it's worked just about everywhere it's been seriously tried: non-violence brought down apartheid in South Africa, Jim Crow in America, and British Colonialism in India.
But of course it took violence to defeat the Nazis, to end slavery and to free the colonies from British tyranny. Does that mean non-violence has its limits? Not if you believe that violence just begets more violence. Only non-violence can break the cycle.
So what do we say to those poor students who were mowed down by the Chinese government in Tienaman Square? Where did non-violence get them? Well it got their cause in seared into our memories. Their courage and sacrifice helped opened up the eyes of the whole world to the true nature of the Chinese regime at that time.
Of course it's not as if anybody needed to be told that. But suppose the Chinese students had opted for armed resistance instead. Clearly that would have been a nightmare -- a lot more people would have died, and the government would have been able to hide behind claims of needing to preserve and protect civil order.
Which gets us to the real advantage of non-violence: moral clarity. Non-violence can achieve a degree of moral clarity that violence never can. Think of those civil rights protestors, on that bridge in Selma, being beaten by racist cops, with the whole world watching. Under those circumstances, a person of good will had no choice but to stand with the protestors. If those protestors had turned violent, the morality clarity of the moment would have been completely lost.
Of course this assumes there will always be people of good will, standing on the sidelines, waiting to have their consciousness awakened. But what if that's false? What if most people have made their peace with a system that is corrupt through and through? What if they're willing to do anything to defend it, to hold onto their power and privilege? What then?
Then you take a page out of Gandhi's book. Make the system unworkable. Put body and soul in its way. Disrupt its economy; tie up its police force; clog up its jails; overburden its courts. But do it all NON-violently.

Now you could argue that non-violence worked in India because in the end the Brits didn't have the stomach for even more brutal oppression. Put body and soul in the path of oppressors who are made of sterner stuff, and you just get crushed -- non-violent resistance might not give a psychopathic tyrant the slightest pause. But it might still send a morally clarifying message to those who side with him out of nothing but feat and intimidation.
Effective resistance, you might say, isn't about sending messages -- it's about stopping bad things and replacing them with good things, and sometimes that takes violence. But that's a false dichotomy. Bad things stop when people of good will stand their ground and make them stop. The moral clarity of non-violent resistance invites all people of good will to stand together. Violence almost always drives people apart – even people who might otherwise be allies.
That said, it's entirely possible to believe that in some cases you won't get significant change without a little armed insurrection here and there to sweep away some bad actors along the way. That doesn't make one eager for more violence per se; it just speaks to the complexity of trying to bring about change through non-violent means. Our guest, Judith Butler, has certainly thought deeply about that complexity, so tune in to hear her thoughts and more about the art of non-violence.
Log in or register to post comments