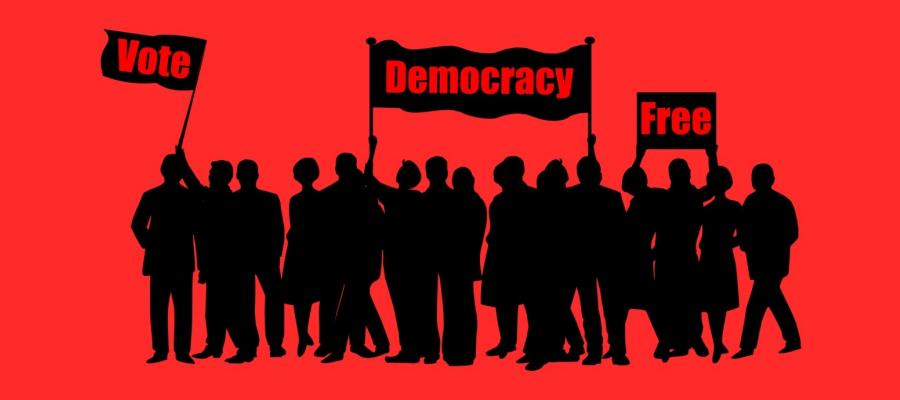 With the presidential election just around the corner, let's revisit some of our past episodes around elections, democracy, and politics in general. We think you'll find it striking just how relevant these discussions still are today.
During the last presidential election, we took a step back from the horse race to examine three broader issues related to the American electoral system: the duty to vote, the two-party system, and the effects of money in politics. None of these is less pertinent this time around, even if they do seem dwarfed by this year's crises.
A decade earlier, John and Ken recorded an episode on Capitol Hill with Stanford Law Professor Kathleen Sullivan about some of the basic architecture of the American government, namely the Separation of Powers into three co-equal branches of the federal government.
More recently, John and Ken spoke to renowned political scientist Francis Fukuyama about the crises in our political system that not only pre-date those associated with the current administration but could be traced back to the very design of our democracy.
One issue that's received more attenton in recent years, especially since the Supreme Court's Citizens United decision in 2010, involves the influence of corporations on our political system. In 2012 John and Ken spoke with former U.S. Senator Russ Feingold to find out just what effects the modern corporation has on our democracy.
In 2016, John and Ken explored some of the ideals still present in American political thought, more specifically the philosophy of John Dewey, who was the single most influential American philosopher during his lifetime.
We also include for your consideration a brief except from Ken's book, Farewell to the Republic We Once Dreamt Of, as a blog entry; a link to his article, The Will of the People, in which he advocates for the abolition of the electoral college; and a link to a video recording of a half day conference on Trump, Philosophy, and American Politics in which Ken and others sound the alarm about the current state of the republic. It's all worth listening to, but if you want to skip to Ken's bit, it begins at about the 1:57:00 mark.
Happy listening, and please share your thoughts with us in the comments section below!
Elections and Democracy
Episode Title
Date
Related Content
Sun, Sep 04, 2016
Sun, Nov 05, 2006
Separation of Powers Separation of Powers and the Charismatic Presidency
Sun, Mar 22, 2015
Democracy in Crisis Democracy in Crisis
Sun, Jun 24, 2012
Corporations and the Future of Democracy Corporations and the Future of Democracy
Sun, Sep 25, 2016
John Dewey and the Ideal of Democracy Dewey's Democracy