Is White Privilege a Distraction?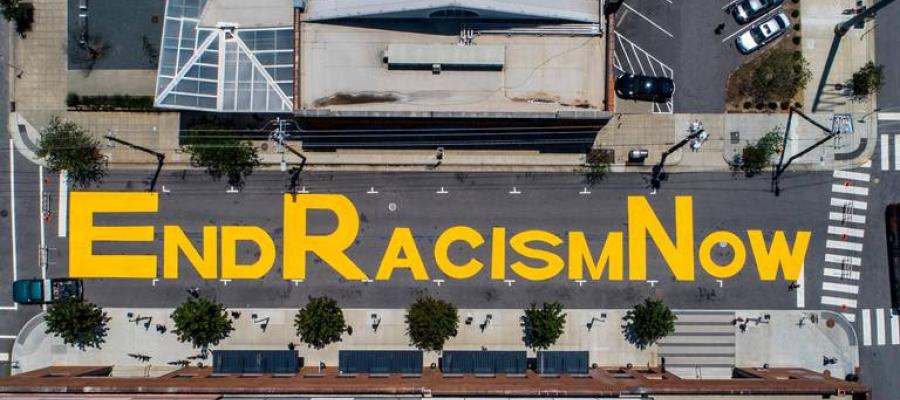 This week, we're thinking about White Privilege and Racial Injustice. Everybody knows that the US has a long and sorry history when it comes to racial injustice. It also has a long history of privileging the needs, concerns and narratives of white people over those of people of color. But how exactly are white privilege and racial injustice related? That's our question for this week.
Some might think the the connection is completely obvious. Ask yourself how many times have we had to witness the tragedy of unarmed black men and boys getting shot and killed over practically nothing? White people just aren't subject to this kind of crap. Imagine if they were? How loud do you think the uproar would be? The point is that white privilege and racial injustice are just two sides of the very same coin. Eliminate white privilege—and with it the unequal treatment of whites and people of color—and racial injustice automatically goes away.
This being philosophy, of course, things are never as simple and straightforward as they seem. Even if there is, in fact, rampant mistreatment of blacks, that does not in and of itself prove the existence of so-called white privilege. To see this, we need to start from the beginning and get clearer about what exactly we mean by white privilege. Perhaps a good starting definition is that there is white privilege wherever whites enjoy unearned advantages relative to others. Think not just of the criminal justice system, but of spheres like education, housing, and employment, to name just a few.
Now if you view white privilege in something like this way, you might be inclined to think that the fact that whites are much more likely to be treated by cops with respect than people of color is a sign of unearned white privilege. After all, they really did nothing to "deserve" the advantage of being treated with respect by the police, except be born white in a racist society. Ergo, you might think, the fact that they are so treated is a sign of white privilege.
But there's a problem with this way of thinking. Although not everybody is in fact treated with respect by the cops, everybody surely deserves to be—whether they are black, white, or brown. That is, we all have the right to be treated with respect. And for none of us does that right have to be earned. We're get it automatically just in virtue of being born. The problem with our earlier way of thinking, then, is that it misconstrues what are really matters of rights in terms of privilege.
Granted, the cops far too often trample the rights of black people—though that's not to say that they don't trample the rights of whites sometimes too—but far less routinely and with far less impunity. But this doesn't prove anything about white privilege. Quite the contrary. The problem isn't that the cops are wrong to respect the rights of whites. They are wrong to disrespect the rights of blacks. I don't mean to deny that there is such a thing as white privilege. But it's not a privilege to have one's rights respected. To eliminate the kind of racial injustice that involves the cops mistreating and even killing unarmed black men and boys, for example, we shouldn't be focused on tearing down so-called white privilege, but on securing the too often trample rights of people of color. After all, it's not like we want cops to go around violating everybody's rights.
So far, we haven't really found a good example of white privilege in action. It was simpler to do so in the days of explicit white supremacy, in particular during slavery or the days of Jim Crow segregation. Then just being white gave white people a privilege enjoyed by every white person and no black person—the privilege of just being white and not being black. That was something that the least among whites could hold over even the best among blacks. We've come a long way since then. Indeed, we've come so far that some people dismiss talk of white privilege as an anachronistic relic of a distant racist past.
But it's not so simple. Even if explicit, legalized discrimination is a thing of the past, a strong case can be made that far too many of our racial interactions are governed by implicit bias. That's where people unconsciously judge minorities or women more harshly than white men, even though they may consciously endorse and even live out anti-racist, anti-sexist points of view. Implicit bias leads directly to white privilege. Take those experiments where exactly the same paper is submitted to exactly the same journal, once under a black sounding name—Jamal, say—once under a white sounding name—John, say. Pretty reliably, John's paper will be evaluated more favorably than the Jamal's paper, even though they are otherwise exactly the same. And many people think that implicit bias is a major source of white privilege.
There may well be something to this idea. But I'm not sure it's as straightforward as some might think. To fully establish the existence of white privilege on the basis of the phenomenon of implicit bias, you'd have to know whether John's paper was evaluated higher than it should be by objective standards or Jamal's paper was evaluated lower than it should be by such standards. Only the former would be a sign of white privilege in action, because only the former would show that John was receiving an extra perk just for being white. If Jamal is evaluated lower than he objective deserves to be, that would be a sign of bias against blacks, to be sure. But it's not clear that would really be a sign of white privilege in action.
The moral isn't that there is no such thing as white privilege. I think there surely is such a thing. But it's just not as cut and dried to establish what such privilege consist in as you might think. Even the case of implicit bias raises issues a lot like our cop case. Everybody deserves to have their work evaluated fairly and by the same objective standards. If Jamal's work isn't but John's work is, that shows that Jamal was discriminated against and discrimination surely should be eliminated. But it doesn't automatically show that John enjoys some white privilege.
Now this week's guest, Naomi Zack, argues that although there is such a thing as white privilege, the discourse of white privilege is often—though not always—a distraction when thinking about how to combat racial injustice. Most of the time, we will get further with a discourse of rights. I'm not sure I'd go quite as far as she seems willing to go in shifting focus from the elimination of white privilege to the securing of minority rights, but I find her ideas deeply engaging. Give a listen and see if you do too.
Log in or register to post comments