Welcome to Philosophy Talk's Community of Thinkers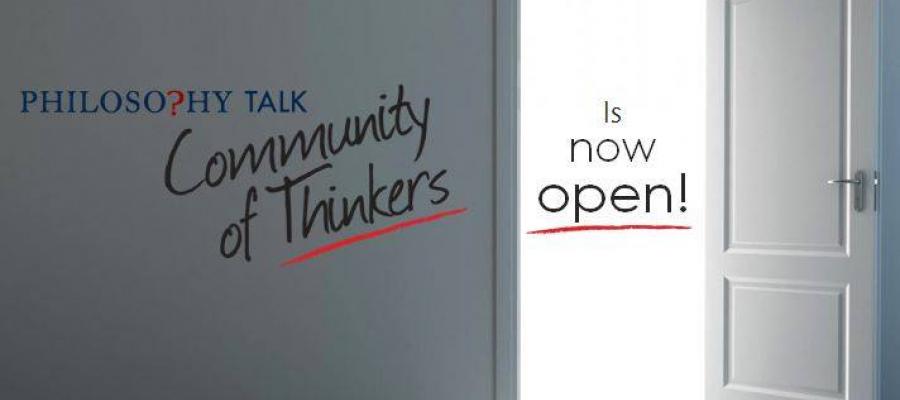 Like all things, Philosopy Talk has evolved. Indeed,  on this, our 10th Anniversary, we have reached a crucial stage in our evolution. If we are to keep bringing you quality, thought-provoking and entertaining programming, we need the help of you, our listeners. That is just one reason why have introduced our online Community of Thinkers. Through the Community of Thinkers we hope to turn ownership of our program over to you, our listeners. All public radio stations are, to some extent, owned by their listeners, since a substantial portion of their revenues come directly from listener donations.  Think of us as trying to bring the ownership model that all public radio stations employ to our program. 
We have adopted thsi new ownership model because after 10 years of getting roughly 80% of our financial support from Stanford University, Philosophy Talk can no longer count on that level of support from the University. We feel nothing but gratitude for the generous support Stanford has given us over the years. We fully accept the challenge of raising a significantly greater portion of our revenue from independent sources. We MUST meet that challenge if we are to continue to bring you quality content online and on the air. 
You should know, however, that the challenge is substantial. Potential sources of support for us are few and far between. Public radio stations simply will not pay carriage fees for an independently produced program like ours. 
Moreover, there are precious few granting agencies interested in funding Philosophy on the radio. Surprisingly, after 10 years of our doing this show, with ever increasing success, few granting agencies believe there to be a substantial public appetite for philosophy on the radio. Potential corporate underwriters, who are really interested only in their own bottom lines, are even more resistant to the idea. 
Now you may think that by giving to your local public radio station, you are indirectly giving to support programs like ours. For both programming produced by the local stations themselves and programming produced by the big three public radio networks—National Public Radio (NPR), Public Radio International (PRI), and American Public Media (APM)—this is to a large extent true. 
But for independently produced programs like ours, this is definitely not true—not in the slightest. We receive no funds whatsoever from public radio stations. Stations simply will not pay carriage fees for what they regard as "niche" independent program. We conservatively estimate that if we were to attempt to charge carriage fees, we would lose over 70% of our audience. This is one reason there is so little independently produced programming on the public radio airways. The revenue to support such programming just isn't there. 
Moreover, there is also the fact there is little space on the dial for such programming to begin with. Public radio is dominated by a combination of programs from the big three national networks already mentioned and by local programming produced by the various stations themselves. Probably 95% or more of the total airtime is devoted to such programming. This already makes programs like ours that fall into neither of those categories an extraordinarily tough sell to program directors. 
Given the stark odds against our success, we are certainly proud that Philosophy Talk has been able to swim against this massive tide, with slowly increasing success, for the past 10 years. However, given our new financial reality, without your help it will be harder for us to keep swimming for the next 10 years. 
With your help, we are confident we can keep riding out against the incoming waves. That is why we invite you to take ownership of our program through our Community of Thinkers. The Community of Thinkers is our way of achieving a direct relationship with our listeners, a relationship not mediated by the stations, the networks, or the underwriters. 
By becoming a Partner in our Community, you directly empower us to keep swimming against the tide of a sea of programming dominated by powerful national networks and locally produced programs. It is not that we are trying to singlehandedly redirect the tide. That would be too much for one small program to achieve. We just want to find a more secure place of our own within the sea. 
Join us in our efforts! Help us keep up the fight to bring an independent voice to the public radio airwaves. Become a partner in our Community of Thinkers! 
Log in or register to post comments