Virtual Reality, Real Feelings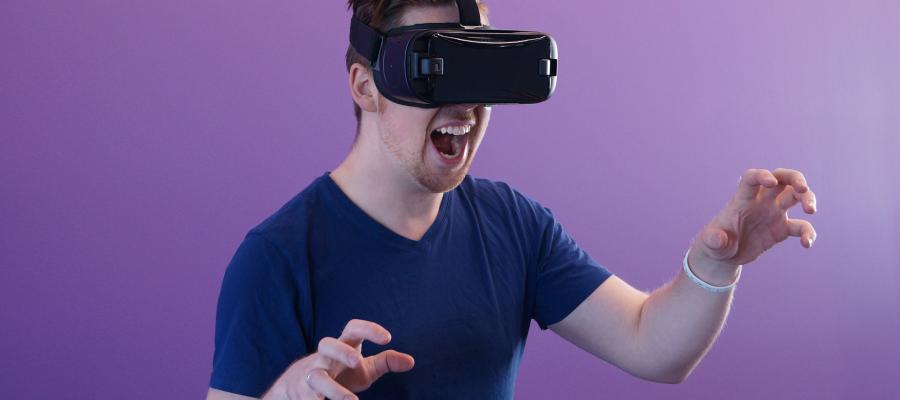 Can virtual reality make people more empathetic, train students in the scientific method, and help people overcome their fears? Will it be a tool for propaganda and mind-control? Or will it just be a fun toy, with no serious consequences either way?
This week's episode—"What Can Virtual Reality (Actually) Do?"—asks whether VR is a force for good, a force for ill, or not much of a force at all. It's the second episode in our series, The Human and the Machine, generously sponsored by the Stanford Institute for Human-Centered Artificial Intelligence.
Let's start by admitting that VR is really fun. All you have to do is put on a headset and suddenly you're transported into a magical world where you can swim with dolphins, spar with Darth Vader, or pretend to be James Bond. But VR isn't just for entertainment. It has programs designed to help you exercise; it can teach kids cool things about science; you can have meetings in VR that are a ton better than Zoom; you can even get therapy for phobias and PTSD.
Of course, you can do all those things in the real world too. And some might argue that it's better to have a living, breathing teacher or therapist than an imaginary or virtual one. But VR lets you do some things you can't do (or can't do safely) in the real world. You couldn't stand inside a real volcano, for example, and you wouldn't want to be in a war zone. VR lets you experience things like that—things that are dangerous or even impossible.
But why is that important?
One compelling answer that's been proposed is that certain VR experiences can help us develop empathy. If you can feel what it's like to be in a war zone (without actually putting yourself in danger), you can start to empathize with victims of conflict. One VR simulation I've been in, called Clouds over Sidra, takes you around a refugee camp in Jordan. It's a very moving experience.
My colleagues in literature departments might reasonably counter that many novels, plays, and movies already aim to cultivate empathy. But fans of VR have something to say in response: if that's your goal, then VR is a more powerful tool. The reason is that by being so immersive and so interactive, it more or less tricks the brain into thinking it's really having the experience.
In fact, VR does such a good job of fooling us that—sadly—its users often end up injuring themselves. If you're being chased by a virtual zombie, you may very well run into a wall in your living room trying to escape. These kinds of injuries are so common that there's even a rather wry name for it—"VR to ER."
So one way you might think about VR is that it's the most powerful technology ever invented for creating imaginary experiences that feel real. And because those experiences feel so real, the argument goes, they're likely to have impacts pretty similar to real-world events. If you see someone suffering in VR, your heart will bleed for them. That was certainly my experience in Clouds over Sidra.
Still, there is a worry that this empathetic effect might not be universal. Take someone who enjoys running over grannies while playing Grand Theft Auto, for example. Is that person going to suddenly develop empathy, just from performing some activity in VR?
And more to the point, is that person even going to choose the relevant activities? Will someone who loves running over grannies in Grand Theft Auto be interested in simulating the life of a victim of war? Maybe people who choose to experience something like Clouds over Sidra are people who are already empathetic. If that's the case, then it's unclear how useful VR is as a tool for fostering empathy.
And there's another serious worry about VR: if it can be a force for good, it can also be a force for ill. Could unscrupulous designers create experiences that confuse users about what's real and what isn't? Experiences that sell products, political candidates, even versions of history? Jaron Lanier warns that VR "could turn out to be the evilest invention of all time." Will it?
So what do you think? Can VR help us solve any real-world problems? Or will it just create more of them?
This week's guest, Jeremy Bailenson, is the ideal person to talk to about all this. He's written a fantastic book on VR, called Experience on Demand: What Virtual Reality Is, How It Works, and What It Can Do. And he directs Stanford's Virtual Human Interaction Lab, where I once fell down an imaginary hole. In that moment, I didn't feel too much like James Bond…
Photo by capondesign on Pixabay
Log in or register to post comments