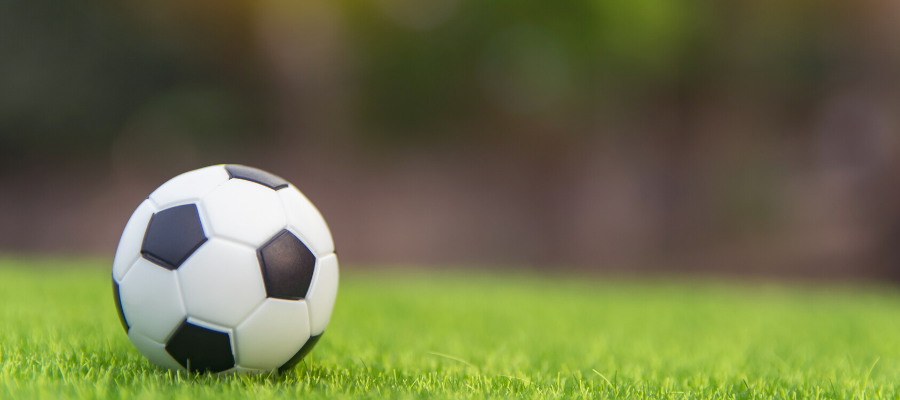 With the World Cup having just ended, and it being a great success by many measures, I am once again led to reflect on my own lack of interest in soccer. It's not that I don't appreciate the athleticism involved in soccer. I do. And it's not that I can't see the strategies unfolding. I can. But somehow it still leaves me pretty cold. Why is that?
I know some will say it's all about what you grew up with. There may be some truth in that. My wife, for example, who now loves baseball, didn't start appreciating its true beauty until pretty late in her life, after she had watched our baseball-playing-and-loving son play literally hundreds and hundreds of games over the years. She gradually learned to see the game through his eyes. Perhaps if I had watched or played more soccer in my youth, I would have learned to appreciate the true beauty of the game in the same way.
But there's one problem with that hypothesis. My first exposure to the beautiful game was actually quite thrilling. I was a teenage AFS student in Brazil, a long time ago, back in the days of the military dictatorship. I remember fondly how my entire neighborhood was glued to its television sets during the 1972 Olympics. I remember the wild cheers that went up at every goal the team scored. The first soccer match I ever attended was also in Brazil. It was Flamengo vs Fluminense at a packed Maracanã stadium. And that was when the stadium could hold something like 200,000. The place was rocking. I had never seen anything like it at that point in my young life. That's the kind of thing that can hook you for life. But it didn't do that for me.
If Brazil couldn't convert me into a fan of soccer, I suspect there must be something about the game itself that is getting in my way. My guess, and it is only that, is that soccer would be more interesting without the offside rule. That, I think, is the main thing that causes the game to be so heavily tilted in favor of the defense. Hockey (another game I seldom watch) has the same offside rule. But the pure kinetic energy of hockey makes it more interesting to watch than soccer. Of course, if you wanted to improve soccer, you couldn't just change the offside rule. You'd probably have to introduce the equivalent of basketball's restricted zone and lane violations to compensate. The point would be to strike a better balance between offense and defense. Every sport has to strike that balance in some way or other. How a sport does that has a lot to do with how interesting it is. It may come as heresy to those who regard soccer as perfection, but I humbly suggest the game would be more interesting, and possibly even more beautiful, with a different balance between offense and defense.
My point is not that low-scoring games are intrinsically aesthetically unpleasing as such. I love a low-scoring (American) football game, due to smash-mouth defense on both sides. I love low scoring baseball games in which two awesome pitchers match each other, pitch for pitch, and shut down great hitters on both sides. But there is a huge difference between low scoring games in baseball or American football and low scoring soccer matches. In these quintessentially American games, a low score is usually a sign that the defense has managed to impose its will on the offense. Unlike in soccer, it is hard for the defense to impose its will on the offense. And it's lovely to behold when it happens, partly becuase it is not the default state of the game. Sure, there are times when something similar happens in soccer. But in soccer, moments of imposed will defense are very rare exceptions rather than anything close to the rule.
Let me turn now from soccer to baseball. So as not to keep you guessing about my true feelings, I'll give away the punch line right away. If soccer deserves to be called the, or at least a, beautiful game, then baseball deserves to be called the truly beautiful game.
I know many people disagree. I've heard it said by some that watching baseball is like watching paint dry. Frankly, people who say that amaze me. I sometimes wonder if they have really dull senses or suffer from attention deficit disorder.
Baseball is admittedly not hyperkinetic constant motion. But if hyperkinetic motion were the measure of beauty, ant colonies on their frantic search for food would be considered things of sheer beauty. Baseball is beautiful partly because it is not a sphere of relentless hyperactive motion. Instead, baseball alternates between quiet moments and explosive moments of high intensity. In this way, a baseball game is like a finely wrought symphony. Unlike with drying paint, a whole host of amazing things happens in a baseball game. Each of them rewards close attention. Each can be savored as if it were one were tasting a complex, full-bodied, well-aged wine. And these movements worth savoring come both in the quiet moments and the explosive ones.
THink of a baseball game as a series of discrete movements, many involving the exercise of high skill. The moments are often pregnant with possibility. Think of the many ways of scoring. You don't need to be near the goal or under the basket to score. You can score from any base. Think about the following not uncommon game situation. Bases loaded, 1 out, home team batting, score tied. Think of how pregnant with possibilities that situation is. Think of the many different possible outcomes there are on any given swing of the bator throw of the ball in this situation. The pitcher could strike out the batter and the runners will likely remain in place. The pitcher can walk or hit the batter and a run will score. A pass ball or a wild pitch will score a run, advance the other runners with the hitter still up. The hitter can bunt, hit a sac fly, get a single, double, triple, or home run, scoring 1, 2, 3, or 4 runs with a single swing of the bat. The hitter can hit into a double play ending the inning. The at bat can become a long struggle—with the batter fouling off pitch after pitch, working his way into a 3-2 count. And then ....?
Baseball is a game played in the subjunctive tense. It is all about managing possibilities. Get some men on base, anyway you can, and possibilities are increased. Erase those runners—via pickoffs or double plays—and the possibilities diminish. But not until you get three outs have the possibilities for that inning been reduced to zero. And the absence of the clock means that time, which plays the role of thief in every other game and also in life away from the game, cannot steal possibilities away. Only the other team can. The absence of a clock means that you always have the ability to keep increasing your possibilities. That's why players are taught to never give up an at bat and never just groove a pitch or take a defensive play off.
But baseball is not just beautiful in its unique macrostructure, it is also beautiful in its moment-by-moment macrostructure. In contrast to soccer, in which most things that happen on a moment-by-moment scale are irrelevant to the overall narrative of the game as whole, a baseball game as a whole is a series of finely coordinated individual moments that sum to something much more than a mere collection, with each contributing to the overall narrative of the game. How one could fail to appreciate the beauty of the moment-by-moment evolution of a baseball game astounds me. How could one not appreciate the level of control in a finely spun curveball or slider? How could one fail to be awed by the power in a blistering fastball, with late movement, placed exactly where the pitcher commands it to go. How could one fail to see the artistry in a well planned and executed sequence of pitches—in, out, up, down— a sequence tailor made for just this batter, that when successful may said batter in the looking flummoxed and foolish? But the batter too will make his adjustments and get the better of the opponent in the next at bat. How could one fail to be impressed by the canniness and athleticism of a batter who fouls off tough pitch after pitch, finally drawing a walk or hammering a triple into the gap? How could one not see the grace and athleticism of a center fielder tracking down and corralling a hard hit ball in the gap or appreciate the technique and power that it takes to turn and throw that ball, once caught, on target from the outfield at 100 mph to gun down a runner sliding into home, who had dared to test the outfielder's arm? Who could seriously witness the beauty of an athletic double play, the cat and mouse dynamics of an outstanding baserunner, trying to read the pitcher to get a good jump and compare all that to paint drying, of all things? That's beyond comprehension!
Let's go back to the balance between offense and defense that I complained about with soccer earlier before closing. Baseball gets it just about right, especially in comparison not just to soccer but also in comparison to soccer's polar opposite, basketball. Scoring is relatively easy and definitely good in basketball, and not scoring is really bad. Things are the reverse in soccer. Not scoring is more or less par for the course and scoring is really, really, super-duper good. Score just once and defense so dominates that very often you will still win the game in soccer. (Trying doing that in basketball!) These differences between the goodness of scoring and the badness of not scoring in basketball and soccer help explain the different ways in which turnovers matter in the two games. Turnovers are really bad in basketball. They rob your side of an opportunity to score and give it to the other side instead. That's why getting a stop after a turnover in basketball is a really important thing. In soccer, by contrast, turnovers are mostly inconsequential. Most possessions don't end in scores anyway. I take this to be evidence that neither basketball nor soccer strikes a perfect balance between offense and defense. Because of the frequency of turn overs, prolific offense is really hard and relatively hard in soccer. On the other hand, because scoring is so easy in basketball, shutdown defense is really hard and something of a rarity in basketball.
In baseball, by contrast, scoring and run prevention are more or less equally important and are well-balance in their difficulty. The finely tuned balance between offense and defense means that the two make roughly equal contributions to the character of the game. Indeed, it's signficant that there is no such thing as a turnover in baseball. As a consequence, baseball involves a more intricate point-counterpoint bewteen offense and defense, since neither of the contributing melodies can be entirely silenced by the other. That is part of makes it a thing of such amazingly singular beauty.
Finally uniquely among the sports humans play, baseball gives us mortals brief intimations of immortality. Because there is no clock in baseball, a comeback is still possible until the very last out is made, no matter the state of the game. When and how that last out comes is left up to the players in the contest with each other, not to the clock, not to time the thief all all hopes and possibilities. That is true always of the Gods. It is true of us mortals only on the baseball field.
I don't at all mean to denigrate soccer. I gladly concede that a good soccer match may contain many moments of beauty and grace. Soccer may even deserve its standing as the or at least a beautiful game. But if it does, then I insist that baseball should really be called the truly beautiful game! Indeed, it might even be called sublime.
Log in or register to post comments