Transitions in Philosophy Talk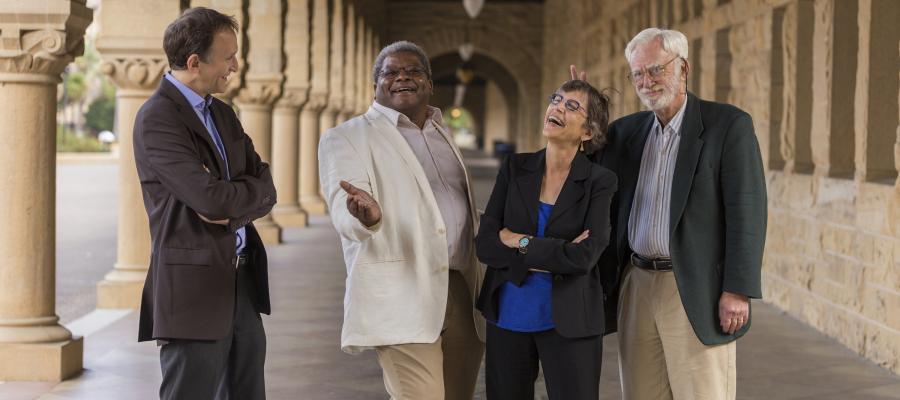 It's time to make it official. After well over 400 episodes, 13 and half years on the air, and two years before that trying to get on the air, John has decided to transition into a new role in order to allow him more time—both for himself and for his academic pursuits. Henceforth, he will be our Host Emeritus. It's been quite a ride. Working with John over the course of all these years to create and perfect a new art form and to bring it to all of you has been one of the joys of my life. I will really miss working with him on a weekly basis. But you know what they say—when one door closes, another door opens. And this time, it's opening wide.
Since John last occupied the host seat, you've heard some less familiar voices—five, in all, I think—say that they were "sitting in for John Perry." The owners of two of those voices, Debra Satz and Joshua Landy, will no longer be "sitting in." We're thrilled to be adding Debra and Josh to our team! Both are amazing thinkers, amazing communicators and, best of all, cool people. They will add great new perspectives and fresh energy to Philosophy Talk. We hope you enjoy getting to know them.
As for John, he will be sharing his great wit and profound wisdom with you, our listeners, in some form or other, whenever the spirit so moves him. He'll likely step back into the hosting chair on occasion, and perhaps we'll have him on air as a guest to talk about his own philosophical work. Wouldn't that be fun? He may also weigh in on the blog from time to time. Personally, I'm hoping to convince him to do an occasional new segment called The Wit and Wisdom of John Perry. If you like that idea, feel free to comment on this post to let John know! Also feel free to write testimonials to John in the comments. This is a big deal for us all and surely deserves marking.
Our newly expanded team very much looks forward to bringing you hundreds more lighthearted and thought-provoking episodes of Philosophy Talk. But for now, let me just say for our whole team, "Thank you for listening. And thank you for thinking!"
Log in or register to post comments