Self-Deception and the Problem with Religious Belief Formation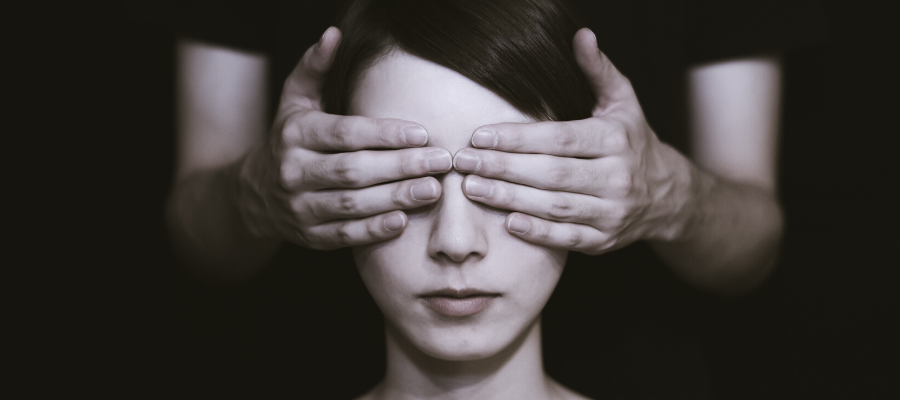 A quote: "He who eats the bread and drinks the cup with an unbelieving heart eats and drinks judgment upon himself." This line is from the communion liturgy of the Church I grew up in—the Christian Reformed Church of Grand Rapids, Michigan. The word "judgment" in the quote is a way of saying "damnation to Hell". The word "unbelieving" refers to disbelief in the core metaphysical doctrines of the Church. The effect of regular repetition of lines like this in the service is to strike fear in the person who may be questioning such doctrines. Fear in turn squelches inquiry and creative thought. I was only eight years old when I first heard that line and understood what it meant.
The point of this blog is not to criticize religious beliefs. I think many are wrong, many right, and many we just can't know about. My focus is rather on the character of the "belief formation process" inherent in much religious practice. The phrase "belief formation process" will refer broadly to the way that beliefs in a human mind come about, are maintained, or are extinguished (or not). We all have beliefs, which have to get there somehow.
I choose this focus because I suspect my experience with the Grand Rapids CRC is representative of what goes on in a much broader spectrum of religions. This topic is also timely for Philosophy Talk, since we're approximately halfway between our show on the existence of God and our upcoming show on the intelligent design argument. I also think that although particular religious beliefs have been much discussed and criticized, there still needs to be clearer discussion and criticism of the mental pathways by which such beliefs characteristically arise and are maintained. My view is that the a-rational nature of the religious belief formation process is pernicious and ultimately more destructive than any individual religious belief, or system of beliefs, taken by itself. That process critically involves self-deception.
There is, to start, a beautiful thing about being human. We're equipped with senses, capacities for reasoning and logical comparison, and an imaginative faculty for generating new ideas. The beautiful thing is that just by our getting up in the morning and walking around the capacities we have compel us to the generation of new knowledge and more subtle beliefs. The data that come to our senses because of our daily actions spark our reasoning capacities to call out for explanation; our imagination answers with the generation of ideas that, if all goes well, provide answers. This is how detailed knowledge of nature—individual plants and animals, and systems of them—has come about in so many diverse human societies. The particular answers and beliefs will come and go—if one belief doesn't work, another takes its place—but the beautiful thing is the process and the nature we have that allows us to participate in it. Let's call this the healthy belief formation process; it's driven by curiosity.
The process of religious belief formation stands in stark contrast. Let's return to the quote I started with. There's no doubt that the repetition of such threatening lines has played a role in the formation of many religious beliefs. But how? Those lines provide no evidence of their claims. Why should they bring about belief?
The first thing to note is the vilification of unbelievers. Those with an unbelieving heart will be judged, for, presumably, they've done something (morally?) wrong. The vilification of unbelievers threatens exclusion from the group to anyone on the fence. And then there's the fear of Hell that's engendered. The net effect of the vilification and fear is that a desire to believe comes about in the mind. " . . . eats and drinks judgment upon himself." I certainly had such a desire in my youth.
Once there is a desire to believe the metaphysical doctrines of the religion, the mind is ripe for self-deception. Self-deception has essentially two components. First, a person forms a belief in violation of his usual standards of evidence and judgment—what philosophers call epistemic norms. Second, a desire with content related to the content of the belief causes the deviation from the healthy belief formation process. Because vilification, fear, and desire bring about the religious credence—while that credence is at odds with usual standards of judgment—the process by which religious beliefs come about is one of self-deception. (For a similar view, see this piece by Georges Rey.)
A religious advocate might respond that I've gotten it all wrong, that it's direct encounter with the spirit of God that brings about religious belief. But then why is religious practice so full of methods that have the precise effect of establishing credence by a-rational means? The singing, the chanting, the repetition of lines that vilify unbelief, the stress on believing only on faith? Surely the existence of such methods is no coincidence. And even if some have been touched by something divine, surely there are many who formed their religious beliefs in response to the constant pressures of liturgy. And that's the religious belief formation process I'm talking about.
What exactly is wrong with this process? First, it's at odds with the healthy belief formation process. It stagnates and undermines the healthy process just when it could be most beneficial to reflecting on our core beliefs and values. Fear, not curiosity, is the driving force. By representing as evil disbelief in any of a long and specific list of doctrines, the factors involved in the religious belief formation process cause us to disengage with the normal and healthy creative process of belief generation and revision. Persons attending a religious ceremony are made to fear the prospect that something else might strike them as true. The mind loses its flexibility. Consider some examples. How else could the belief that the earth is at the center of the universe persist for so long in the face of Galileo's new evidence? How else could members of a church that canonized a woman, Joan of Arc, for her leadership hold the belief that women are categorically unfit to lead congregations? Why do evangelicals who have seen pictures of the changed color of the peppered moth believe natural selection has never occurred? How else should we explain the belief at high levels in the Catholic Church that it's wrong to teach about and distribute sexual protection in a South Africa crippled by AIDS? Responsiveness to reality is needed here. But that's precisely what the religious belief formation process lacks. The beautiful thing about the human mind is undermined.
Why else do I think the religious belief formation process itself is worse than any particular belief? As I've been stressing, I think the healthy belief formation process is central to our humanity; it's a tragedy for that to be undermined. But as importantly, human actions take on a vicious and inflexible character when they are driven by beliefs that are unresponsive to reality. The problem with Crusaders and Jihadists is not primarily that they think their enemies are evil; it's that their beliefs are unresponsive to being moved by the simple humanity of their victims. One belief can explain a skirmish, but it takes a degenerate, self-deceptive belief formation process to explain the systematic maintenance of a set of beliefs underlying a Crusade. Other examples are abundant: the Inquisition, the longtime inability of the Catholic Church to respond appropriately to child molestation by its clergy (how could we fire someone ordained by God?), and the malicious condemnations of Jerry Falwell (and those who listen to and act on them), to name a few. All these cases involve false beliefs that would have been changed by a simple bit of responsiveness to reality if they hadn't been insulated by the religious belief formation process. Dogmatically held beliefs give rise to destructive behaviors. The further danger is that acceptance of such a degenerate belief formation process can spread and lead to wider corruption of our cognitive economy.
So what of the intelligent design argument, the argument that posits an intelligent creator to explain the ordered complexity of life in the natural world? It's fine; these criticisms don't touch it. I don't think it ultimately works; nor does it fall in the domain of science. But I wish all religious thinking had such a rational character. The reasoning involved in that argument is an instance of the healthy belief formation process in action. We'd all be better off if religious people thought so rationally all the time.
What, finally, of faith? I know of two ways in which the word "faith" is used—one pernicious, one laudable. At its worst, "faith" is used rhetorically to bring about a-rational, unreflective credence in what the "wise" men of the Church would have you believe. I think I've said enough already to indicate what I think is wrong with this kind of "faith." But the word is also used in another sense. Faith in this sense is the action-guiding confidence that good will come about if we pursue goodness uncompromisingly. Having this kind of faith is consistent with uncertainty about what the good, in terms of outcome, will ultimately be. And, despite what religious leaders may suggest, having this faith is also consistent with active questioning of religious dogma. In short, faith in this sense is not opposed to intellectual curiosity.
Log in or register to post comments