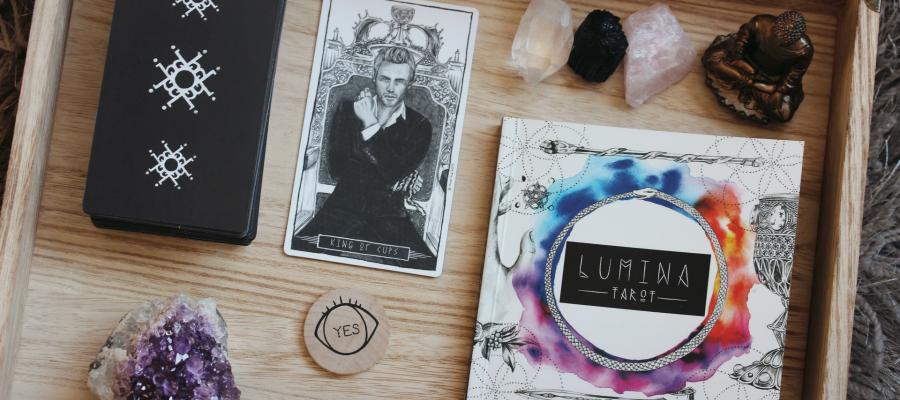 Our topic this week is the Occult Philosophy. These days, we tend to think of those who believe in the occult as soft-minded, superstitious, new-age hippie-types who would rather commune with imaginary mystical forces than face cold, hard scientific facts. But it wasn't always so. During the Renaissance, for example, things like Alchemy, Astrology, White Magic, Hermeticism, Cabala, Numerology were intensely studied by some of the best minds in Europe. Literature from that period is often rife with references to the occult. The works of Shakespeare are a prime example. You might even say that the study of the occult was once culturally dominant in parts of Europe. And although the occult is surely culturally marginalized as anti-scientific gobbledygook today, many historians of science believe that the study of the occult played a crucial role in the development of modern science itself. Alchemy begat chemistry and astrology begat astronomy.
That's not entirely surprising if you think about the meaning of the word 'occult.' On one meaning – no doubt the most common meaning, the word 'occult' means "Of, relating to, or dealing with supernatural influences, agencies, or phenomena." That, of course, is the very opposite of what science deals with. But the word 'occult' has another meaning --- "secret, concealed or hidden from view" as in "occult causes." That's a more old fashioned use of the word 'occult'. You find it used that way in 16th and 17th century philosophy texts. Not many people use 'occult' to mean secret or hidden very much today. But during the Renaissance, students of the occult were very much in the business of trying to discover, understand and manipulate the hidden causes of everything in the universe. To that extent, their goals were very much in line with modern science.
Of course, their heir methods were quite weird, by our contemporary lights -- a veritable witches brew of religious mysticism, metaphysical speculation and magic. Or to put it differently, Renaissance thinkers thought that that the occult in the sense of the hidden causes of everything included agencies and phenomena that were occult in the sense of supernatural. So although the Occult Sciences and Philosophy of the Renaissance may have been forerunners of modern science, they were not scientific by today's standards. Modern science has no truck with the supernatural.
Eventually occult practices and philosophy were driven into the shadows of Western Culture. That was no doubt partly due to the consolidation of the scientific revolution. But it wasn't just that. There was also an intense religious backlash against the occult, especially after the protestant reformation. The Occult philosophy drew liberally not just from Christian theology, but also from pagan and eastern beliefs. Occult practice seems to have been both unorthodox and, apparently, threatening to the Church. So the occult became identified with dark and sinister forces. Its practitioners were subject to intense religious persecution. They were often tortured and executed. Some historians even refer to the numerous witch-crazes of the period as a kind of holocaust.
But let's jump ahead to today. Despite the dismissive attitude of people who may be overly awed by science, some apparently sane people still believe in the occult. And thankfully, we don't burn people at the stake for practicing a little witchcraft anymore. And to top it off, we're recording this episode on a Halloween Sunday. For those reasons and more there couldn't, I think, be a better thing for us at Philosophy Talk to be doing today than asking where our ideas of the occult came from and examining how those ideas got driven from the center of Western culture to its margins. It should be a fun and fascinating hour. But since neither John nor I is adept at either occult theory or occult practices, we've used the white magic of radio to conjure ourselves up some help. We'll be joined by one the world leading experts on the history of occult theory and practice – that would be Christopher Lehrich, author of, The Occult Mind: Magic in Theory and Practice. It should be a fun and informative hour. So why don't you join us too?

Photo by Jen Theodore on Unsplash
Log in or register to post comments