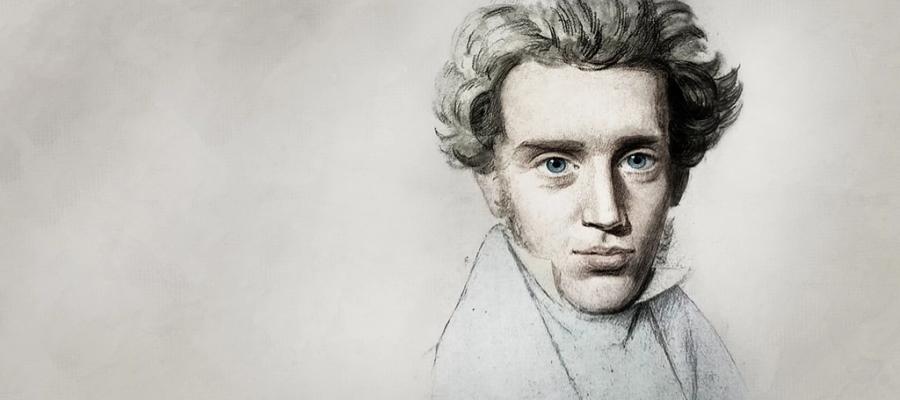 Kierkegaard was a very important Danish philosopher of the early 19th century. He criticized Hegel severely. But apart from not liking Hegel, he just seems to exemplify most things I dislike in a philosopher. I like philosophers who tell you what they think in a clear and straightforward manner. Kierkegaard wrote under a bunch of pseudonyms, poetically I guess, but turgidly. I think reason is the method of philosophy. Kierkegaard thinks we should accept contradictions and make leaps of faith.
Ken tells me I have it quite right. Kierkegaard doesn't say we should accept logical contradictions, but we do need to accept things we can't hope to understand. These he calls paradoxes. Christianity is full of such paradoxes… like that Jesus is both human and divine. That's a paradox, because we can't hope to figure out how that could be. But it's not a contradiction. To say Jesus is both divine and not divine would be a contradiction.
But why should we make a leap of faith? Why should we accept something we don't understand? Especially if it leads to crazy behavior --- like Abraham getting ready to kill his son Isaac, because God told him to?
That was sort of a paradox for Abraham. He knew it was wrong to kill Isaac. But God was commanding him to kill Isaac. So Abraham thought it was his duty to kill Isaac, and would have if the angel hadn't intervened with a reprieve from God. Abraham was ready to obey God, take a leap of faith, even though he didn't understand how to fit together the demands of the ethical and the demands of God into a coherent picture.
One might ask: why was Abraham any better than Agememnon, who sacrificed his own daughter?
Agememnon was doing what the morality of his time dictated -- killing a loved one to bring success in battle. For Kierkegaard, complying with traditional morality isn't the best kind of life. One should obey one's own subjectivity, one's inwardly felt duty. That's what Abraham was doing.
It seems to me, however, that Abraham was obviously nuts, a psychotic who almost committed murder. Why would a philosopher approve of such a thing?
Still, perhaps Kierkegaard has a point? Isn't the person who marches to the beat of a different drummer, an internal drummer, someone to be admired? The person who has the courage of her convictions? John Brown, the anti-slavery zealot, was probably a bit unbalanced, but I admire his passionate desire to end slavery, however ill-considered.
Over my philosophical career I've found that many intelligent people I greatly respect value and even enjoy reading philosophers I find exasperating and annoying. Our guest Lanier Anderson is a case in point, and I'm sure he will help us appreciate Kierkegaard, if not exactly convert us into passionate Kierkegaard fans.
Log in or register to post comments
Related Shows
Jan 10, 2010

Philosophy usually suggests a striving for rationality and objectivity. But the Danish philosopher Søren Kierkegaard advocated subjecti...
May 07, 2006

Being and Nothingness, the for-itself and the in-itself, bad faith, and the existential predicament; these Existentialist concepts were...
Apr 05, 2005

Arthur Schopenhauer, the great Nineteenth Century philosopher, had a pessimistic vision of the world as "will and idea.
Dec 20, 2005

The question of whether or not God exists is profoundly fascinating and important. What are the proofs of the existence of God?
Oct 29, 2006

Some have argued that there aren't any good arguments for believing in God. Is belief in God just an act of faith without reason?