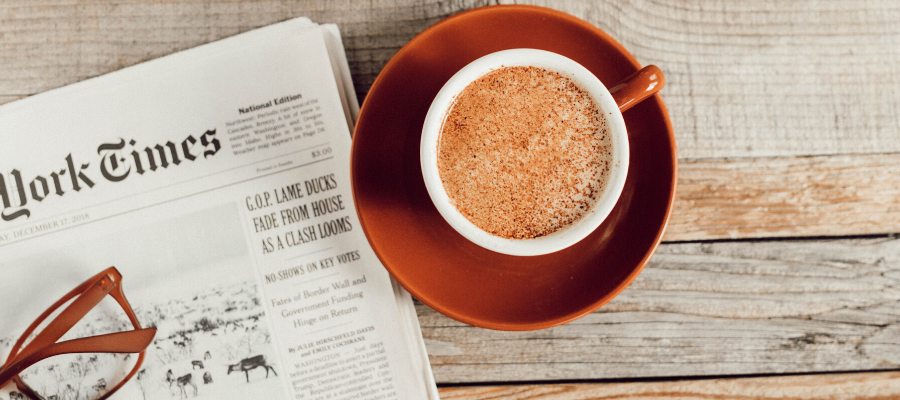 The topic for today's show is Journalistic Ethics. Our guest will be Dale Jacquette, of Penn State University, who has recently published a book about the topic called, Journalistic Ethics: Moral Responsibility in the Media. I'm sure you can get a copy of the book at Powell's Books -- which is now an official sponsor of Philosophy Talk.
This will be a short post just to get my juices flowing before the show begins today.
The preamble to the code of ethics of the Society of Professional Journalists states that "public enlightenment is the forerunner of justice and the foundation of democracy. The duty of the journalist is to further those ends by seeking truth and providing a fair and comprehensive account of events and issues."
These are certainly admirable sentiments. But it would be pretty hard case to make a case that in our times journalism, at large, lives up to the high ideals articulated in that preamble. Take, for example, propagandistic early coverage of the war in Iraq. That coverage provided precious little enlightenment and was, in my opinion, a complete disservice to our democracy. How has it come to this?
I have to admit to being pretty down on journalists as a class - especially the Washington Press Corps.
When I was very much younger, I thought of journalists as caped crusaders, daring truth seekers, who stood apart from the system and were willing to challenge it, and were even wililng to help facilitate its radical transformation. I thought of journalists as people whose job it was to shed the light of truth on the secrets cracks and crevices of government and society. I even toyed with the idea of becoming a journalist, for awhile, just because it seemed to me like one of the most noble of professions.
That, I think, was because my first stirrings of poltiical and social self-consciousness occurred at the height of the anti-war movement and the civil rights movement. And even as the war waned, there quickly follwed the whole Watergate thing. Journalism was instrumental to ending a disasterous war, to helping bring about a more just social order, and hastening the downfall of an arrogant and corrupt president. What profession could be more noble and more consequential? I think I was not entirely self-deluded in seeing the journalism of that day as powerful counterweight to entrenched and otherwise barely accountable poltiical power.
But it now seems to me that those were pretty singular times in the history of journalism. At any rate, things have certainly changed since then. Now, I look on the journalistic class as a whole with extremely jaundiced eyes -- though there are still a good number of nationally prominent journalists -- especially of the print variety -- for whom I have great admiration. The problem, I suspect, lies in the increasing "corporatization" of the mass media. A great deal of the media is controlled by a few huge and powerful corporations. And I suspect that huge media conglomerates have no more interest in challenging and shaking up entrenched power structures than GM or Exxon or any other corporate giant does.
Moreover, I hate to say this but I fear that many if not most journalist within these huge media conglomerates are more inclined to pursue the path of a corporate careerist than they are to pursue the path of a rabble rousing, truth seeking outsider.
The other day I heard Cokie Roberts make what superficially is a pretty benign statement about what her job, as a journalist, is. She said that her job as a journalist (covering Washington politics) is to explain politics and the political class to the American people. This was in the context of a question about whether she had ever thought about following her father's footsteps and running for political office herself. She answered that she didn't need to run for office to feel like a part of the system, since her job as a journalist was to explain the political class and their doings to the American people at large. That made her feel like she was an important part of the system, without having to take on the burdens of public office.
One can see some point to Roberts description of her job and the jobs of journalists generally. But there's also a trap there. Because ask yourself "In what terms" should the journalist explain the workings of the political class to the people at large. In terms that the politicians themselves would offer? In terms that are maximally revealing of the real dynamics of political life? Some politician is pushing some bill. He or she mounts a bunch of arguments about the good the bill would do. But the politician is also in the thrall of some lobby. Perhaps his or her real agenda is to serve the interest of said lobby. What's the journalist job here? To explain the arguments pro and con, taking at face value the things that politicians explicity say? Or to dig deeper, to ask who the real winner and losers will be if the bill is passed or not passed? Mostly, we get the former out of Washington reporters and hardly any of the latter.
Why? Because reporters these days seem to want, at all cost, to maintain access to the corridors of power. This is partly connected with their culture of corporate careerism. They seem always to be on the look out for that one leak, that one tidbit of information from some anonymous insider, that will lead to a blockbuster possibly career-making story. But if you play ball with insiders, then you have to play by rules that will serve the interest of those insiders. You have to frame issues in ways that will serve their agendas. Otherwise, they won't keep giving you access.
To be sure, inisders do compete with one another. And you never know who's going to be up one day and down the next. So you have to pick and choose your insiders well. Or you have to learn to play both sides of the street, as it were. But that just leads to what you might call more "He said. She said." reporting. Get a Democrat to say one thing, find a Republican who willl say something at odds with what the democrats says. And now you think you've been fair and balanced and objective.
But have you done anything, really, to ferret out the truth? Have you done in independent truth-seeking, fact checking, assessment of the strengths and weakness of arguments?
But perhaps that isn't the journalist's job. Perhaps the journalist's job is merely to let the elites speak and challenge one another. The media provides a platform upon which elites can compete for control of public debate and discourse, not any kind of independent check on the reliability of claims made, etc.
I once heard a journalist who was the Pentagon Correspondent for some major media outlet say in response to the question "Why don't you challenge Rumsfeld more?" that it wasn't her job to challenege Rumsfeld. Her job was to ask him questions and take down his answers. She also had the job, she conceded, of reporting what, say, the Democrats say in response to Rumsfeld's assertions. FInally, she said that she takes what Rumsfeld says and what others say in response and presents it all to her readers adn lets them decide what to make of it.
This is journalism? Seems to me little better than stenography. What if, for example, Rumsfeld is propagandizing, to put it mildly, through his teeth? And what if the Democrats are too cowardly and craven to challenge Rumsfeld's propoganda? What does our intrepid journalist cum stenographer do now? More he said, she said? But who does she turn to?
Perhaps it wouldn't be so troubling if more voices from off the center stage were given more play. I mean the folks shouting from the bleachers "It's a lie! It won't work! The Republicans are deluded! The Democrats are craven and cowardly!" Who are such voices? Often scholars, activists of one sort or another, foreign intellectuals and politicians, etc. But part of the culture of access journalism is precisely that you don't bring the folks sitting in the bleachers onto center stage very often. They are the outs. The outs don't deserve to be listened to in the same way, especially when they challenge, rather than confirm what more entrenched insiders have to say. Even if they have the force of the better reason, argument, and evidence on their side -- heaven forbid. Because, of course, journalists aren't really much in the business anymore of making independent assessments of the arguments offered up by competing elites.
They call this neutrality. But how does such neturality really serve the goal of enlightening the public by seeking truth and providing a fair and comprehensive account of events and issues? I don't really think it does, at least not very much.
As you can see, I've grown pretty cynical and disgusted in my late middle age. Perhaps I over-react. Do I? I'm sure John and Dale will enlighten me if I do.
I gotta go make radio.
Log in or register to post comments