Intergenerational Obligations and the Rope of Lives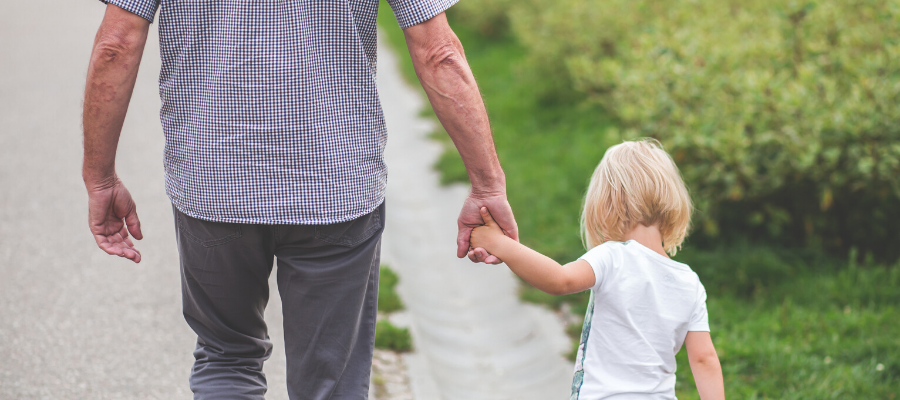 Yesterday on the show, John came up with a really nice metaphor. He compared a generation to a small strand in a long rope. Each strand is closely intertwined with a number of other nearby strands, but mostly the strands don't make direct contact with each other. If you think of the rope as growing over time, the metaphor captures a very nice fact about relationships among the generations. No one strand lasts very long, for example. But the rope endures by having new strands begin where other strands have left off. I like the metaphor a lot and want to use it to explore a little bit further how we might think of intergenerational obligations.
We can divide the generations up into three sets: those that wholly precede us on the rope, those that partly overlap with us, and those that wholly follow us. It seems pretty clear that how we think about our obligations to another generation depends partly on which set that generation falls into. Our obligations, if any, to generations that wholly precede us will certainly differ from our obligations to generations that overlap or wholly follow us. Another important factor, I think, is the kind of rope we're talking about -- whether the roped together generations form a family, a nation, or a school, say.
It's tempting to believe we can have no obligations to generations that wholly precede our own, whether they are generations of one's own family, one's own nation, or one's own school. After all, they are dead and so, you might think, beyond all harm and benefit. I think there is something right about this at it stands.
Both Aristotle and Confucius would disagree, I think and not entirely without reason. You can, for example, tarnish someone's reputation long after they are gone. That plausibly is a kind of harm. Similarly, breaking a promise to one's dead mother, to preserve a cherished family heirloom, say, seems like a bad thing and maybe even a harm of some sort to the dead mother.
It seems right to say that when you break a promise to a dead person or do something to (unjustly) tarnish the reputation of the dead you may have done something wrong. But what seems less clear to me is that you've actually done something wrong to the dead person. At any rate, it clearly doesn't follow from the mere fact that you've done something wrong, that you've done something wrong to the dead.
To see why it doesn't follow, consider John's rope. It seems to me that you can have -- and maybe in some cases ought to have -- an attitude toward the rope as a whole and toward your own present role in "extending" the rope. I don't see why just those atttitudes might not be the source of many obligations, without those obligations having to be obligations to any past or future generations. By analogy, think of one's whole life and one's attitudes toward that life at any given stage of that life. We tend to think of any moment in our lives as one moment in a temporally extended life. Many of our attitudes are attitudes toward our lives as a whole – rather than being attitudes toward particular stages of our lives. To be sure, attitudes toward our lives as wholes may entail various attitudes toward the various stages of our lives. If I want my life as a whole to go well, then at earlier stages I may have to make certain efforts that will only bear fruit at later stages of my life. But my point is that it would be wrong to simply reduce our lives to a sequence of stages and then to insist that our attitudes are all directed at particular life stages, with there being no attitudes that are direct to our lives as wholes.
The analogy strains a little bit when we get to the rope, because the rope is a series of connected but distinct lives. Still, it seems as though we might sometimes have attitudes toward the rope either as a whole or at least toward large segments of the rope that extend forward and backward beyond our own strands. When we think of our own individual lives as tied up with the history of a family or of a nation or of a school or even of a neighborhood, we are to some extent viewing our lives as part of one strand on a rope of connected lives.
Now suppose that I do view my life as one life among a set of interconnected lives and suppose that, in effect, I give myself the task of perserving and extending the rope by which I am connected to lives gone by and lives still to come. I thereby commit myself to preserving and extending the rope, but not because I owe it to anyone to do so -- most especially not because I owe it to the dead and probably not because I owe it to the yet to be born. But the important point is that as long as I am committed to preserving and extending the rope, then it can be wrong not to take certain actions, even if I do no "harm" to any past or future person when I fail to take the requisite actions.
Notice that we may find the rope handed down to us from our ancestors to be in many ways unlovely. We might therefore set ourselves the task of radically altering the future trajectory of the rope. If, for example, our ancestors were a slave-holding, xenophobic, marauding people, who disrupted everything they touched, the rope as we find it might contain division and conflict. We certainly wouldn't owe it to them to continuing weaving the rope together in ways that respect who and what they were. The rope is an inheritance that we may do with as we would, guided by no normative lights save our own. Or so it seems to me. If that is right, it is wrong to think of ourselves as "obligated" to past generations.
I think something similar can be said about future generations. We don't owe it to future generations to pass on the rope in any particular shape. In a sense, we do not stand in "direct moral community" with not yet existent generations. And the same holds, by the way, for no longer existent ones. By this I mean that neither wholly past nor wholly future generations can make any direct moral claim on us because we are not in direct dialectical engagement with them at all. Nonetheless, in viewing our lives as bound together by John's rope, both with lives that have already wholly elapsed and with lives still to come, nothing prevents us from commiting ourselves to continuing the rope in ways that honor or respect the past or in ways that will provide an inheritance of a certain sort to those yet to come. Indeed, seeing our lives in this way is one way of endowing our lives with meaning and with a certain narrative coherence.
I've gone on way too long about generations that wholly precede or follow our own. So I think I'll stop now and post this as it stands. I'll save for another post some thoughts about generations that partly overlap our own. Here things are quite different and quite a bit more complex. That's partly because we are in more or less direct dialectical engagement and moral community with such generations. They do make direct demands on us and we make direct demands on them. It was this kind of thing that Norman Daniels talked about on our show during the time we had him on. But more about that in my next post.
Log in or register to post comments