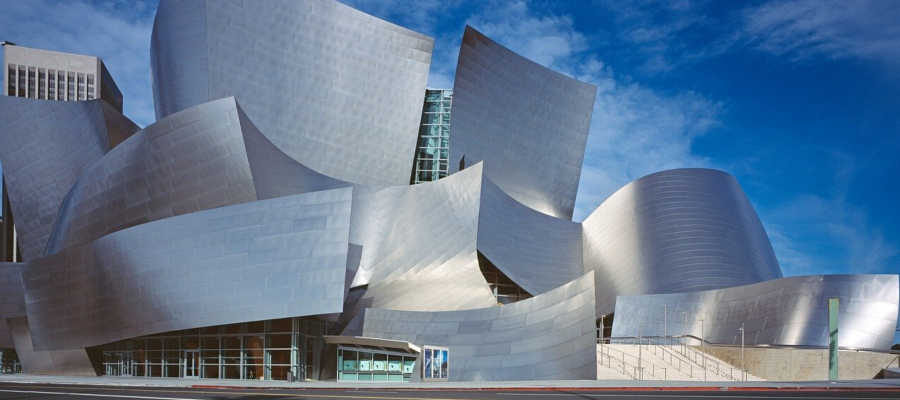 Hi all.
I just read in the Los Angeles Times that "[o]fficials decided today to make the Walt Disney Concert Hall a little duller…. [T]he shimmering stainless steel panels that have wowed tourists and architecture lovers but have baked neighbors living in condominiums across the street."
According to an LA County report, "Beams of sunlight reflected from the hall have roasted the sidewalk to 140 degrees Fahrenheit, enough to melt plastic and cause serious sunburn to people standing on the street."
A woman who works in the vicinity of the Hall told the Times, "We feel like ants under a magnifying glass." In response, folks are at work now sanding down reflecting surfaces of the offending edifice.
Designed by Frank Gehry, The Walt Disney Concert Hall was immediately hailed as an architectural and acoustic marvel. "A stunning piece," said Architecture Week. Travel guide Frommer's Review said it was "stunningly beautiful." Guardian Unlimited called the building "a masterpiece." Etc.
But there is a difference between those stunned by beauty, and those stunned by random flashes of intensified sunlight.
Public art always provokes contentiousness, of course. The most moving public memorial I have ever seen (in fact, the ONLY moving public memorial I have ever seen), was Maya Ying Lin's Vietnam Veteran's Memorial in Washington, DC. Tom Wolfe sneered at it as "skill-proof." Republican Henry Hyde called it "a political statement of shame and dishonor."
To each his own, yes, but how do you create "art" in a public space without offending the sensibilities of those who don't want to see it there? Does that question matter?
What is the difference between a graffiti artist and an architect? Certainly, the latter has permission and money to create his or her blot (or "stunning piece," depending) on the landscape. And Christo, another public artist often described as "controversial," gets permission and puts up his own money for his irritating or beautiful projects.
Are those who post their personal expressions in public spaces marking territory, like dogs, or making art? Or both? At the very least, in my opinion, whatever their universal appeal, masterpieces should not blind the locals.
Log in or register to post comments