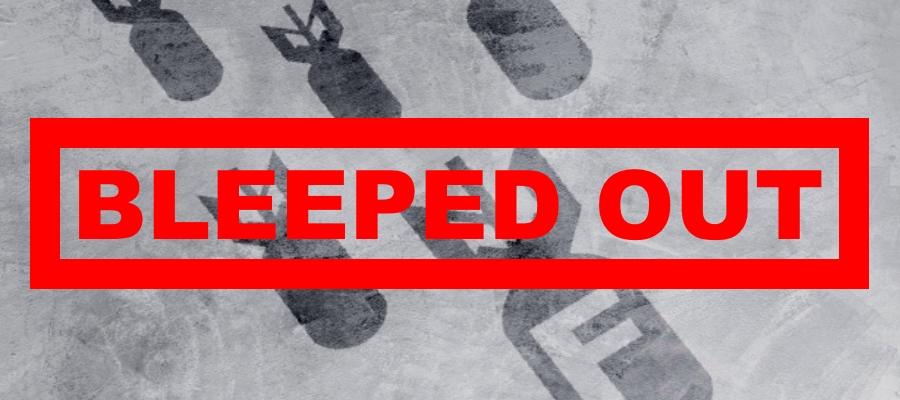 This week our topic is Forbidden Words! Now when we say forbidden, we don't mean legally forbidden. This is, after all, still the friggin' United States of America. And last I looked, we still enjoy the First Amendment right to say whatever we darn well please. We're talking about morally forbidden words – words that hurt, insult, and demean.
Of course, there is that old saying, "Sticks and stones may break my bones, but words will never hurt me!" But that clearly seems wrong. Think of racial epithets, like the N-word. Or ethnic slurs, like the K-word. Or gender-based slurs like the B-word or C-word. That sort of language is incredibly hurtful.
But we have to be careful here, since not all uses of racial epithets are intended to hurt and demean. For example, some black people use the N-word not as a term of derogation, but almost as a term of endearment and/or racial solidarity. Plus there's a feminist magazine called Bitch. I doubt the publishers of that magazine think of themselves as sexists. Those are what philosophers call an appropriated use of slur words. That's when a group that was originally the target of a slur, appropriates the word and uses it in a non-slurring fashion. Appropriated uses raise some really fascinating issues. For example, can a black rapper who uses the n-word complain about white people using it -- without being a hypocrite? Does anything prevent a white person from using the N-word as a term of endearment? Or can only a black person get away with that?
Those are definitely interesting questions and we'll take them up in the course of the show. But right now I want to focus on standard, non-appropriated uses of slurs words first. My gut tells me it's always wrong to call a woman the B-word or to call a Jewish person the K-word. And by that I mean wrong in both the sense of morally objectionable and wrong in the sense of false. To call a Jewish person the K-word is to imply they're despicable because of their religion. To call a black person the N-word is to imply they're despicable because of their race. But that's just false. No one is despicable just because of their race or their religion.
Of course, not everything false is morally objectionable. If I called John Perry a Martian, for example, I'd be saying something false but not anything morally objectionable. Wrongly calling a non-Martian a Martian is different from wrongly calling someone the N-word because when you use an ethnic slur, you're not just implying something false. You're also helping to perpetuate or echo a history of oppression. You're endorsing certain negative attitudes and stereotypes that have historically served to keep the targets of the slur in their place. That's the morally objectionable part. So when you refuse to use these words, you disavow the oppressive history that's wrapped up in them.
But we have to be careful here. I don't mean to say that slurs are always instruments of oppression. Take the word, 'honky.' That's a racial slur typically aimed at the historically more powerful by the historically less powerful. It's a sort of defensive racial slur. Still, since the word 'honky' is used to denigrate white people just because they're white, you might think it's just as bad as the N-word. I don't think that's quite right. Though both are slurs and both are illegitimate, there seems to me to be an important difference between them. And that's something that we will explore in this episode.
I should also say that I don't want to defend the view that slur words can never be either truly applied or morally appropriate. Some people are really and truly A-holes. And some people are really and truly F-ing, Nazi bastards. Such people deserve to be slurred.
I think this shows that we need to distinguish two different kinds of slurs – generalized slurs and particularized slurs. A generalized slur conveys a negative attitude toward an entire class of people – even when the speaker is explicitly referring to just one particular member of that class. Particularized slurs are, well, more particular. More individual. I call a particular Jewish person the K-word, I'm denigrating all Jews, in one fell swoop, and not just this particular Jew. But if I call Smith an a-hole, I'm expressing a negative attitude about Smith, but not necessarily about anybody else. Particularized slurs might sometimes be legitimate. But generalized slurs probably never are.
I hope I've said enough to convince you that the language of derogation is subtle and complicated thing and that there is a lot to discuss. I'm eager to have you join in the discussion.
Log in or register to post comments