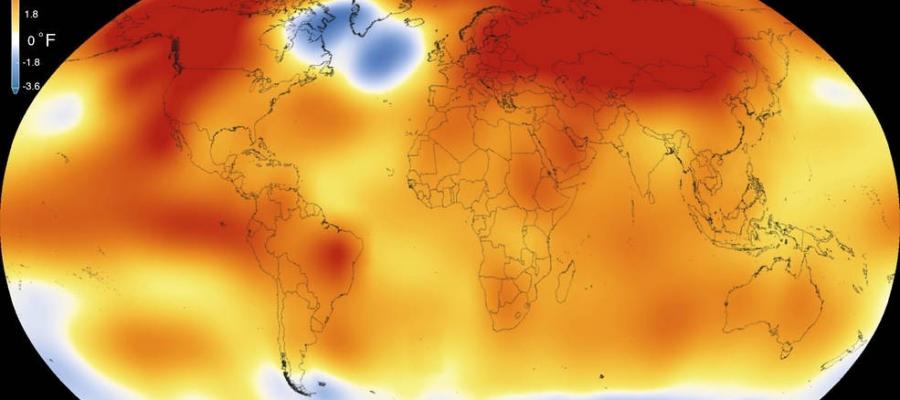 How do we change the minds of climate deniers? Could learning about the science of global warming ever persuade a skeptic? Or are humans just too irrational to be persuaded by facts and evidence? These are some of the questions we're asking in this week's show.
With the ice caps melting, forests burning, extreme weather conditions becoming more and more frequent, and temperatures rising at record levels around the globe, the urgency to act has never been more clear. And even though 98% of all climate scientists agree, there are still people—some of them with a lot of power—who deny climate change.
Given these startling facts, you might wonder what is going on and why we're not doing more to avert, or at least, manage the crisis. What explains why, despite the fact that the last five years have been the hottest ever recorded and there is scientific consensus that this is caused by human activity, there are still many who think global warming is a hoax? Are people just too irrational to respond appropriately to evidence? That certainly seems like a plausible explanation.
Maybe it's not that people are irrational—maybe they simply don't have all the relevant facts. And it's no surprise people may not know the facts when we have professional "Merchants of Doubt," hired by the fossil fuel and chemical industries, who spread skepticism and create the false impression that the science isn't settled. And they've also bought off a bunch of politicians who do their bidding, regardless of their disastrous effects on people and the environment.
It's clear that those who sow the seeds of doubt don't care about the long term survival of the human species, or indeed any other species. Or, if they do care, they don't care as much as they care about their own short term monetary gains. We might ask if prioritizing their short term gains in this way is rational, especially if these merchants of doubt have children or grandchildren they care about. But it's clear their actions are at least instrumentally rational. That is, given their priorities (to make massive profits), then it is rational for them to spread these lies and sow doubt. These merchants may be morally deficient, but they're not particularly rationally deficient.
But what about all the suckers who believe the merchants of doubt? Shouldn't they know better than to believe the propaganda? We already learned how the tobacco industry paid for so-called "experts" to testify that nicotine was not additive, when they knew full well that it was. So of course the fossil fuel industry is up to the same kinds of tricks! (What's that saying about "fool me once"? Seems relevant here…) Isn't it a failure of rationality to fall for those tricks once again?
These days, people are inundated with information from many different sources. We have the internet and social media, and hundreds of TV channels when before there was only a handful. It can be hard for ordinary people to figure out what's true and what's false. And if your trusted news source is telling you climate change is not real, or that it's not caused by human activity, is it irrational to believe them?
Moreover, certain outlets, like Fox News, that sow doubt about climate change also tell their viewers that the mainstream media, i.e. the media that does report on climate change, is the real "fake news." No doubt CNN, NSNBC, and the like are part of that global conspiracy, orchestrated by China, which somehow managed to convince 98% of the world's climate scientists to participate in the global warming hoax without a single whistleblower coming forward to snitch on everyone else. Because that sounds completely rational.
Here's the problem I am confronted with: I want to find a way not to dismiss the climate deniers as either irrational and ignorant, or knowing and wicked, but it's hard. I also recognize that if we do want to reach these people, treating them like they're stupid or evil is not going to work. That's not the way to persuade people. So how do we get everyone on board before it's too late?
Here's a radical idea. Give them the facts! Give them the scientific evidence that global warming is real and that it's caused by greenhouse gases that we generate with our agriculture and industry.
You might think, good luck with that! People are simply not responsive to facts and evidence. If they were then no one would ever take up smoking in 2019. Granted, smoking is highly addictive, so that goes some way towards explaining why it's hard to quit once you've started.
But it's not a stretch to say that we're also addicted to fossil fuels and the kind of lifestyle they support. We like our big cars, our long-haul flights, our air conditioning and our heating, and everything delivered to our homes. We know there's an impending crisis but we just can't give up the fossil fuel consumerist lifestyle.
There are some people changing their habits—they're buying solar panels, electric vehicles, reusable batteries, and carbon offsets. They're voting for laws that protect the environment. Here in San Francisco, we just banned the sale of single-use plastic bottles. So there is some progress being made. But California is a leader in the climate movement and unfortunately not representative of the rest of the country. We already believe the climate scientists. But what about the rest of the country?
Until we get money out of politics, I am not hopeful that we're going to see the kind of widescale change that we so desperately need. And if we don't do it soon, it's going to be too late. As for the deniers and so-called "skeptics," maybe we don't actually need to change their minds. We just need to move forward with a progressive climate agenda and make the radical structural changes we need to protect the future of this planet. They can thank us later.
Log in or register to post comments