The Changing Face of Feminism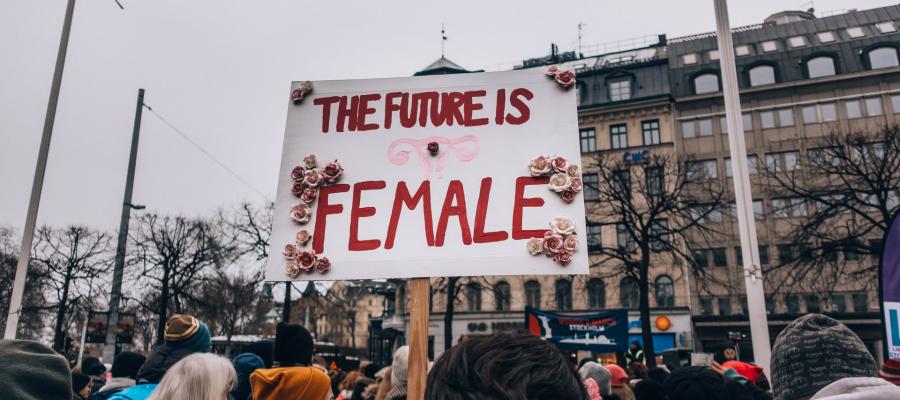 Feminism is a complex set of ideologies and theories, but on the most basic level, its goal is to achieve equal social, political, and economic rights for women.
The first wave of feminism, at the end of the nineteenth and beginning of the twentieth centuries, focused mainly on women's voting rights and property rights. Then came the second wave of feminism and the Women's Liberation movement of the 1960s, which focused on issues beyond the legal status of women to include sexuality, reproductive rights, gender roles, and patriarchal attitudes and culture.
So where are we now?
Something I find both very odd and very disheartening is the backlash we see against feminism—not from men, which is not to say there hasn't been one from men—but from younger women in particular. Many seem to want to distance themselves from the feminist movement, despite the enormous privileges they enjoy as a result of the struggles of the many women who went before them.
Take the Tumblr site, Women Against Feminism, where young women submit photos of themselves holding up signs that say, "I don't need feminist because…" Each writes the reason she (believes) she doesn't need feminism, like "I don't need feminism because I'm not a victim," (great!) or "I don't need feminism because I'm free to make my own choices," (ah, well that's a big philosophical question—are you ever truly free?—and what would that even mean?) and "I don't need feminism because I believe in equality," (um, okay…?)
How about "I don't need feminism because I need a dictionary"? The amazing popularity of this website begs the question: what exactly do these young women think feminism is? Clearly, they do not know, or if they do, they are incredibly entitled and ungrateful.
Without the feminist movement, these women wouldn't be able to vote or get a higher education, they wouldn't be able to pursue their own careers outside of the home, they wouldn't have access to birth control, and if they were married, it would be legal for their husbands to beat or rape them. It's fantastic that they've grown up in a world where they can simply take all that for granted, but a little humility and gratitude please!
The achievements of the feminist movement are enormous and ought not to be forgotten by the younger generation, but that's not to say that feminism has already achieved all its goals. Sure, women today have more choices in life. If they want to stay home and take care of the kids, they can. If they want to have a career, they can do that too.
Of course, I meant middle class women have these choices. But a lot of other women have no choice but to work one, maybe two jobs, and also take care of the kids, and do the housework. The choice to stay home is a privilege only for some.
The sources sources of social, political, and economic inequality are diverse. They include factors such as race, class, sexuality, religion, education, and culture. Expecting the feminist movement to solve all those problems would be to demand too much, but at the same time, if the movement is just about the rights of privileged, straight, white, middle-class women living in Western countries, it is very much in danger of becoming obsolete.
This is why feminists of the third wave talk so much about that buzzword, intersectionality. There's a popular slogan amongst young feminist activists that goes "My feminism will be intersection or it will be bullshit." What that means is that if feminism to stay relevant in today's changing world, it has to intersect with other social and political causes. It has to be a global movement that takes into account the full diversity of women's experiences, and not simply assume that the educated white woman's experience is universal.
"Leaning in" is all well and good for the Sheryl Sandbergs and Carli Fiorinas of this world, but for women not so privileged—the vast majority of women in the world—it does not speak to their experience and it does not address the challenges they face.
Some in the feminist movement think that this focus on identity politics and difference is ultimately divisive. It results in a splintering and radicalization of the movement. But it seems to me that it's really the lack of intersectionality that encourages splintering.
If white, middle class feminists only pay lip service to intersectionality, but still try to set the agenda and control the feminist narrative, then of course these other marginalized groups within feminism will look for allies who understand their realities and deal with their struggles. After all, the discrimination faced by black lesbians is not the same as that faced by disabled Latinas. That can be very easy for a straight, white, able-bodied woman to forget.
To highlight how second wave and third wave feminists think differently about certain issues, take reproductive rights as an example. On the surface, it might seem like a unifying issue. We've seen concerted attacks on Planned Parenthood recently, which resulted today in the House of Representatives voting to defund it for a year. Then there's been many states across the country that have passed new ALEC/AUL sponsored legislation severely restricting women's access to abortion and birth control. And of course, there's even a major national movement to overthrow Roe v. Wade.
Access to birth control is a paradigmatic issue for second wave feminists. So what do third wave feminists, who care about intersectionality, have to say about this issue?
First, they might emphasize how access to these kinds of services is not equal for all women, especially in states where there are very few abortion clinics and mandatory three-day waiting periods. For women who are poor or disabled, for example, they may not be able to afford to take three days, so they have even less access to these services than more privileged women do.
Second, they might also say that by focusing solely on access to birth control and abortion, we ignore the reproductive concerns of other, more marginalized women. Take, for example, the fact that throughout the world, many women have been forcibly sterilized. In this country, it is mostly Native American and African American women, as well as the physically and mentally disabled, who have had to endure this. Yet when we talk about reproductive rights for women, this is not what immediately comes to mind. We tend to think only about access to birth control and abortion.
Is that because it is simply a sad fact from our past that goes along with the history of oppression and subjugation of certain ethnic groups, like Native and African Americans? Unfortunately, no. Just last year, the state of California passed a law forbidding forced sterilization in prisons because, as late as 2010, almost 150 women in California prisons were sterilized, without their consent and often even without their knowledge.
If feminism is to stay relevant in the twenty first century, it has to fight for the rights of all women of all backgrounds and ethnicities. It can't just be a movement that encourages white, affluent women to "lean in."

Photo by Lindsey LaMont on Unsplash
Log in or register to post comments